I started this blog post last year! Took the pictures, wrote some text. But then I never finished it, because I wanted to post all my pumpkin recipes in one spot. Which is a lot, because we eat A LOT of pumpkin around here. It grows well, stores well, and as you'll see in the recipes below, it adds a lot to our every day.
If you read our newsletter you know that this year I harvested our pumpkins too early. It was a terrible mistake but I am happy to report I was covered by grace because I have been roasting pumpkins all fall and have more pumpkin-ready-to-go in my freezers than ever before. So pumpkins do ripen off the vine, though in all future years I will keep them on there as long as possible…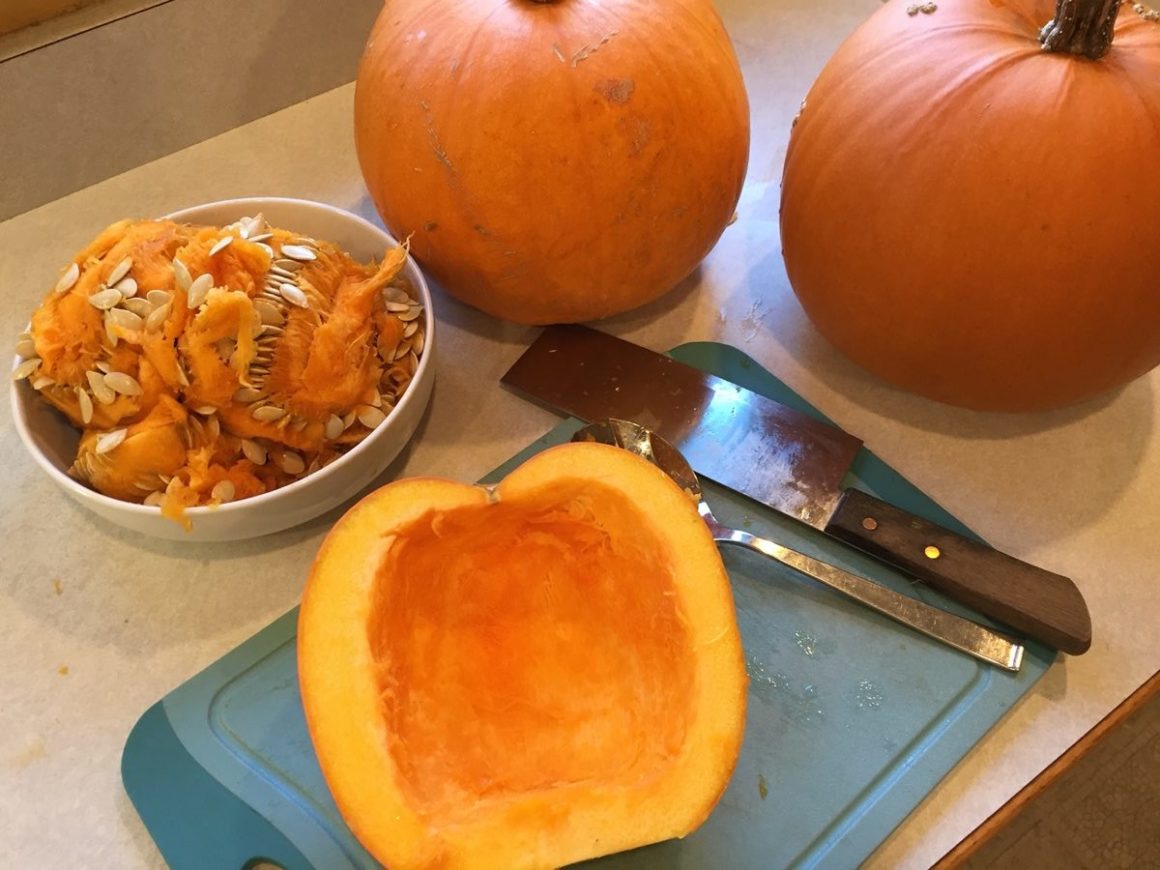 So first a how to: I break the stem off, cut my pumpkins in half (watch your fingers!) and scoop the goop. Hattie is amazing at this part.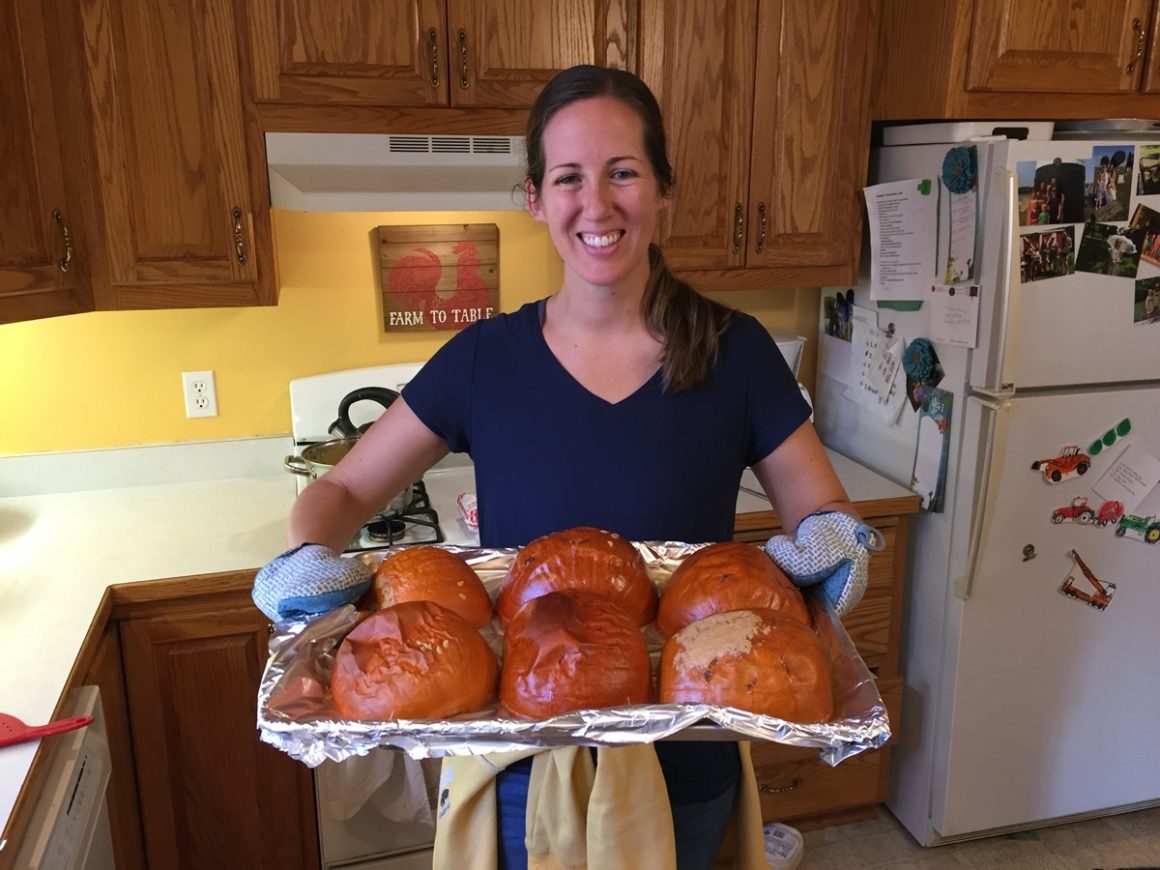 This is me last year- most notable to me is that my hot pads look new. They do not look new a year later. I put the pumpkins face down on a big tray, poke some holes in the top with a big knife (just to puncture their skin…) and bake the daylights out of them. 400 degrees for maybe 45 minutes? Or until I remember them? Or until a fork comes out easy.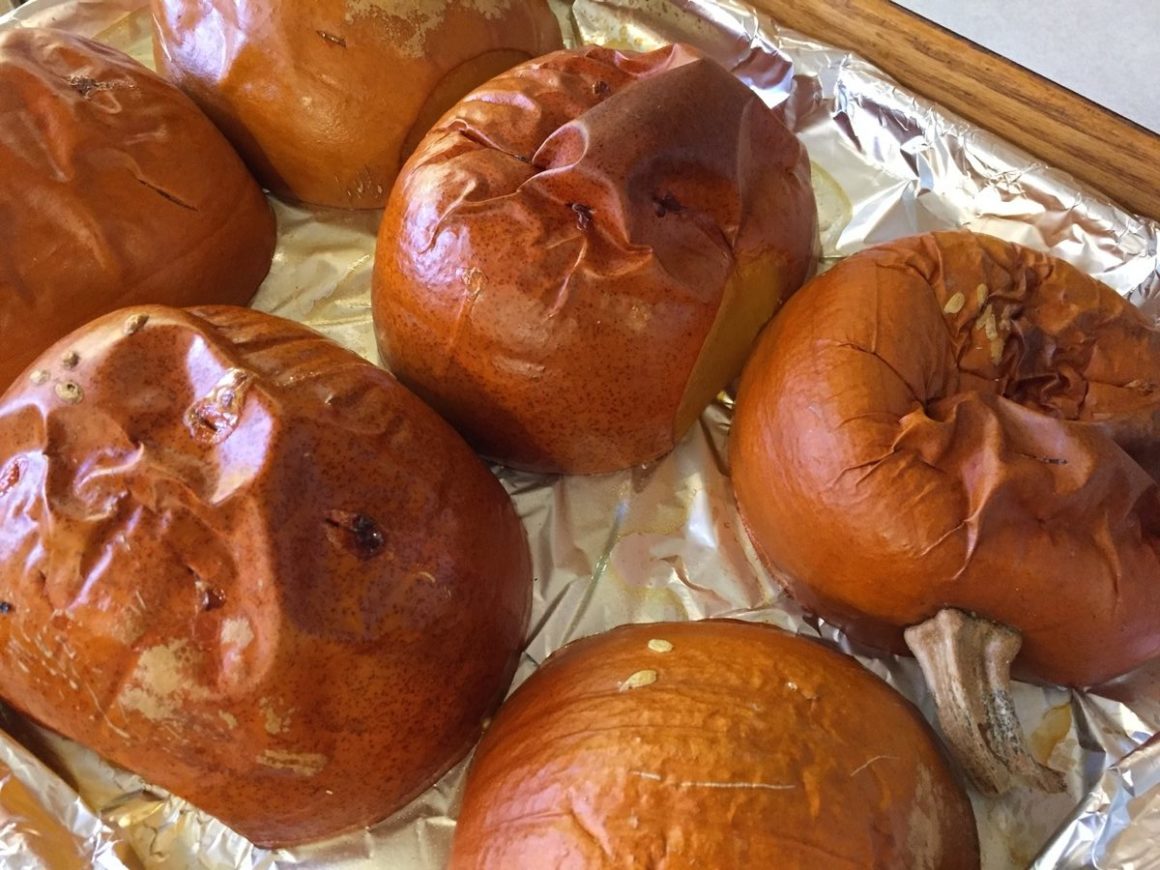 Once cool, the skins peel off for the most part. Sometimes I need a pairing knife. Mostly I just need excited children who love this part. Then you can throw the mash into a food processor like I did last year, OR…you can put them in your stand mixer with the paddle attachment, like I did this year. (Highly recommend the stand mixer. It made for a better "mash" than the food processor…)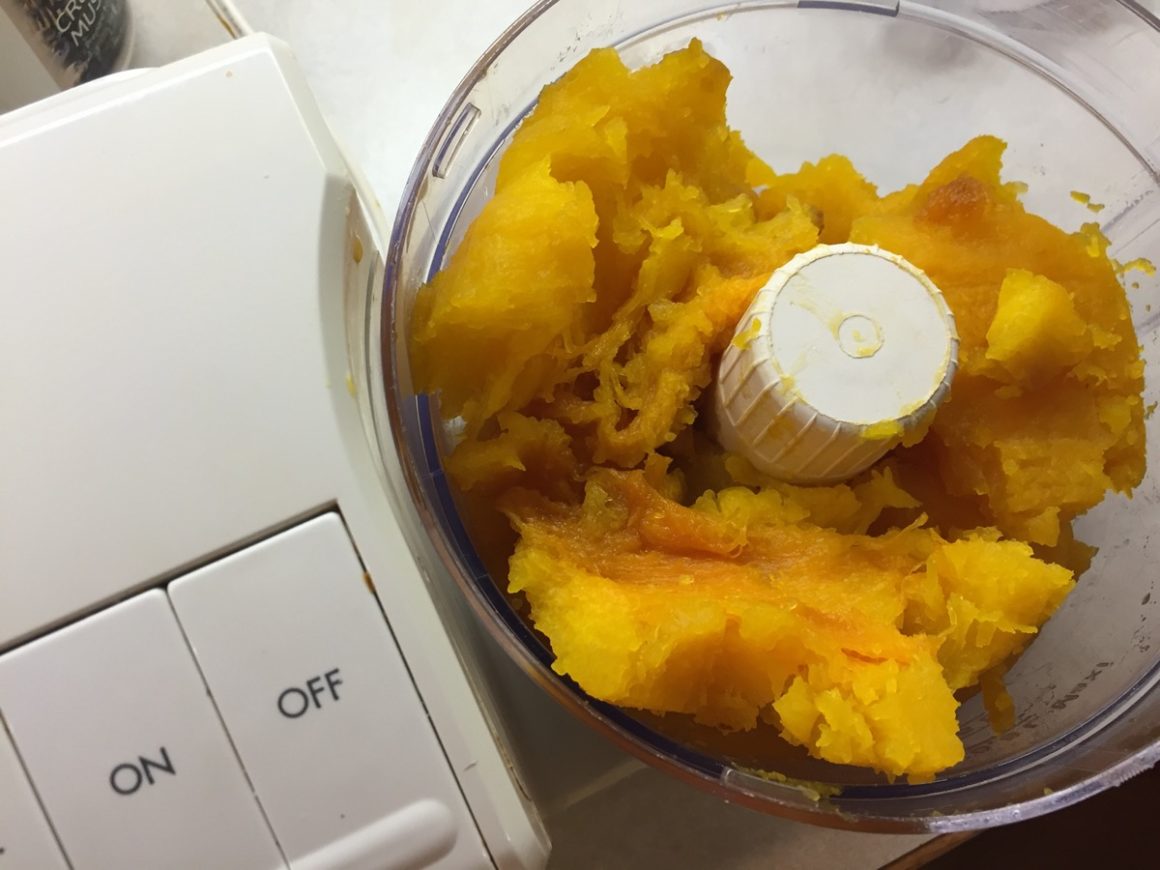 See in this ziplock…it's still sort of still clumpy. But the stand mixer makes it nice and smooth. (Also, my food processor is tiny, so that might be part of my trouble…yours might be great at this step.) Then I freeze it on a cookie sheet so it can stack with all the pumpkins still to come. I do 8-10 pumpkins at a time, depending on their size. It makes SO MUCH PUMPKIN.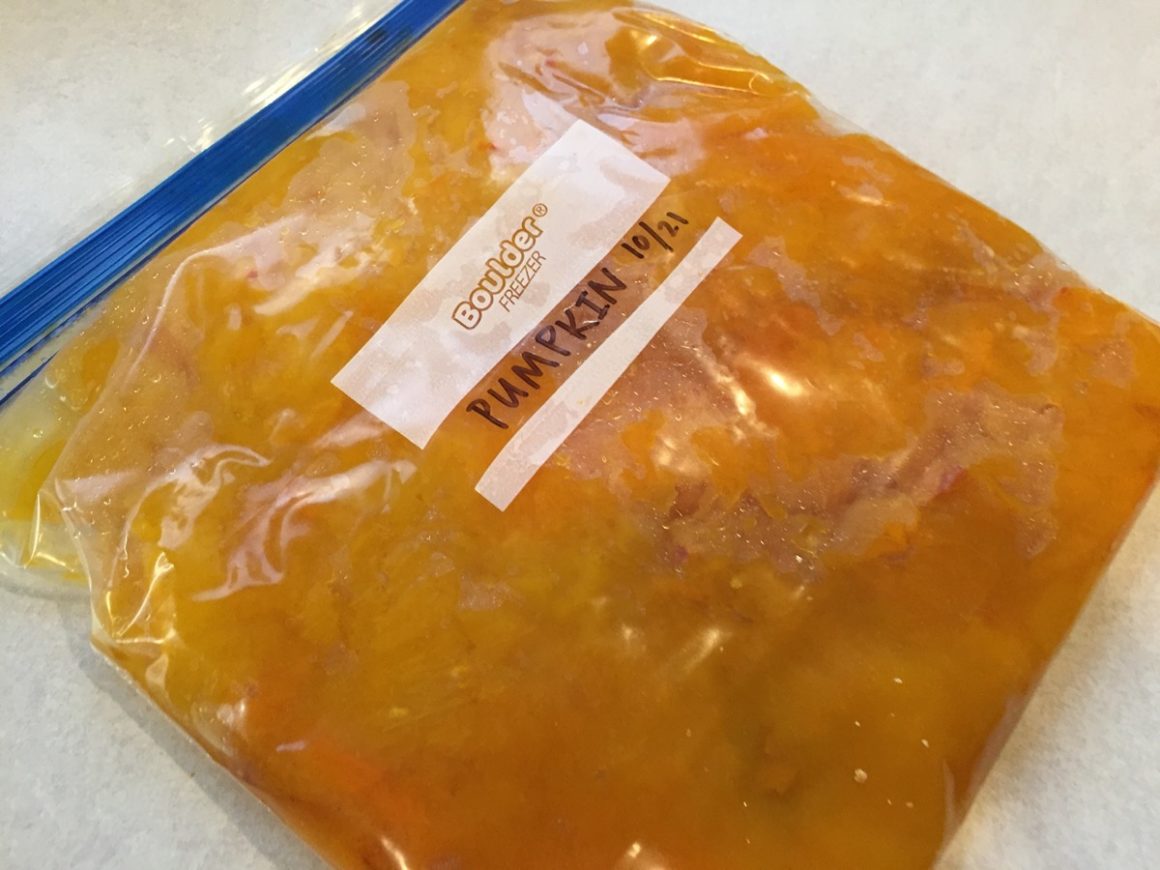 So now, what do I do with all of that pumpkin? So much. It goes it every soup we make, our oatmeal, and even our coffee.
I am happy to report that at this moment I am drinking my pumpkin coffee, the first of the season, and it is EVERYTHING I remember. I'll start there.
PUMPKIN COFFEE
(Put all of this in your blender, and then be careful…hot things expand in the blender. Also, I never actually measure these things, but I did this morning for you!)
2 cups of your usual brewed coffee
1/3 cup pumpkin
1 T. Coconut Oil
1 T. Hvy Cream or Milk or Half and Half
1/4 tsp. Pumpkin Pie Spice or Cinnamon
a pinch of salt
Sweetener: 1 T. Maple Syrup (or now I use a tiny squirt of monk fruit/stevia)
Blend this up and watch the froth. It doesn't take long (15-30 seconds). Pour it into your mug and BEHOLD! It is so good. You'll be so happy.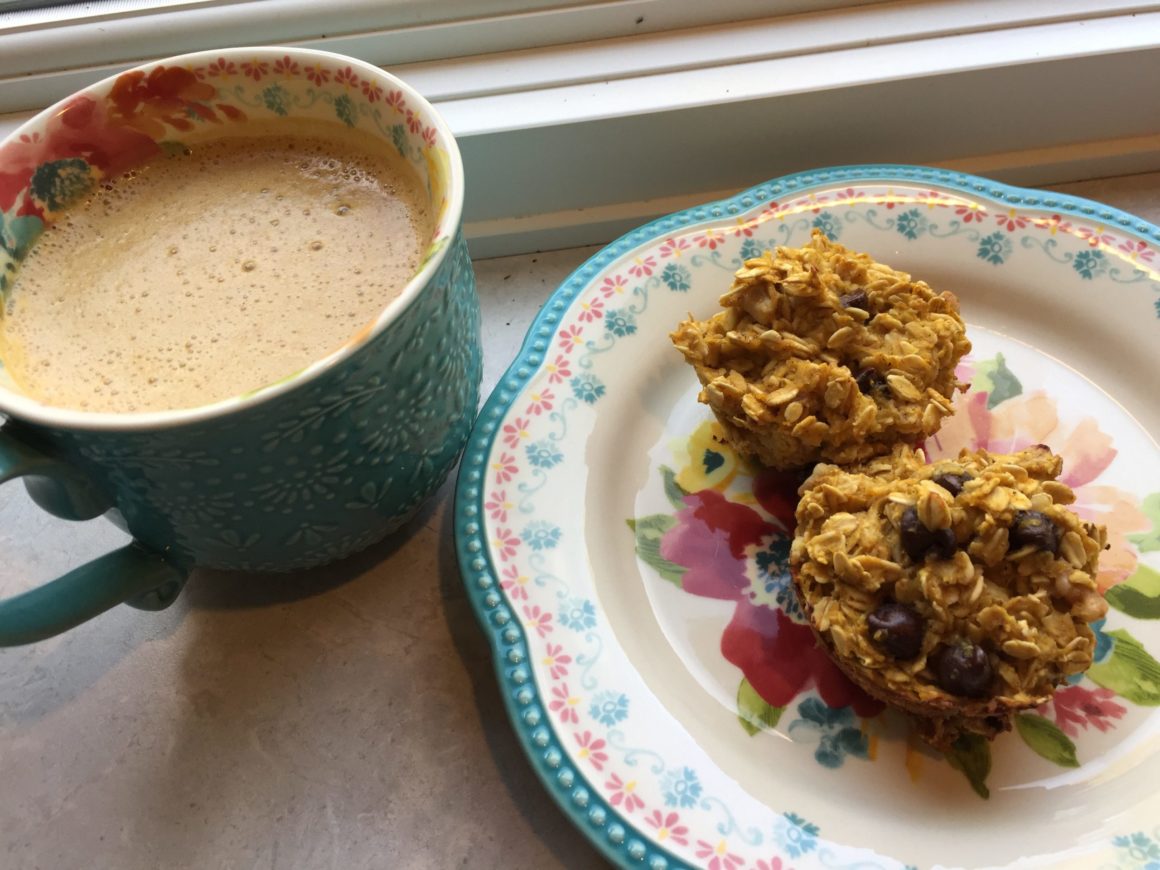 OATMEAL PUMPKIN MUFFINS, makes 21 muffins
I just made these for the kids and Elias, age 3 said, "Thank You God and Thank You Jesus and Thank you Mom for these muffins!"
2 eggs
1 cup pumpkin
1 cup milk
1 cup light brown sugar, packed
1/2 cup vegetable oil
2 teaspoons pumpkin pie spice
1/2 tsp salt
(whisk together in large bowl)
(Add oats and baking powder to wet ingredients, then the chips)
4 cups old-fashioned oats
2 teaspoons baking powder
1/2 cup mini chocolate chips (or raisins)
Preheat oven to 350. Spray muffin tin. (I now save my butter wrappers for greasing my pans! Someone tell my grandma's!) Add 1/4 cup to muffin cups. Bake for 23 minutes. Allow to cool a bit in the muffin tin. Then move to rack, or just right to your plate. Our family ate all 21 muffins in record time.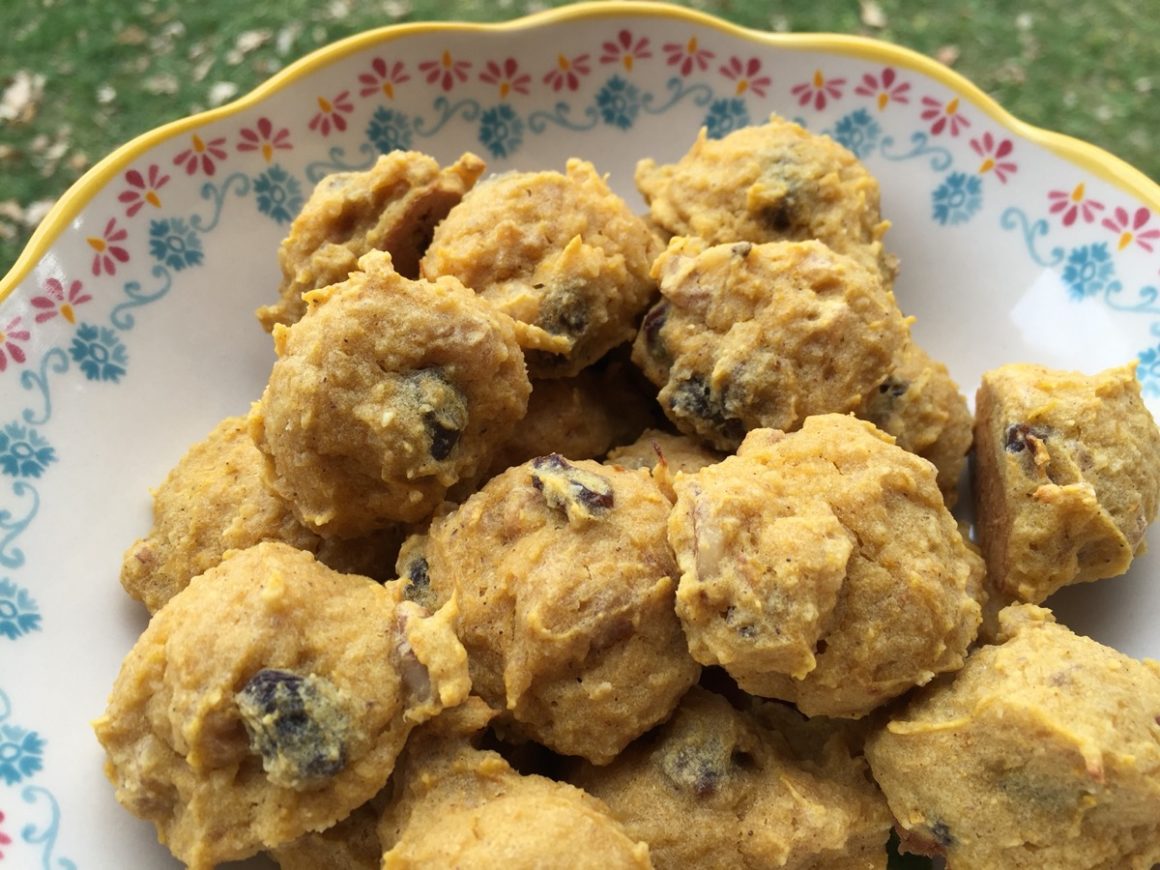 PUMPKIN BITES
1 3/4 cup gluten-free 1:1 flour (Or regular flour)
1 teaspoon baking soda
1 teaspoon cinnamon or pumpkin pie spice
1/2 teaspoon salt
(whisk these ingredients together in separate bowl)
(mix these ingredients together in stand mixer)
1 cup pumpkin
1/2 cup butter, melted
1/2 teaspoon vanilla
1/4 cup maple syrup
1/3 cup sugar or coconut sugar
1 tablespoon nut butter (I use peanut butter)
3/4 cup raisins (or chocolate chips)
Preheat oven to 350. Mix wet ingredients in stand mixer. Add dry ingredients, folding in the raisins last. I use a cookie scoop on a silicon mat on my baking sheet. They don't flatten out, so you can fit A TON on a cookie sheet. Bake for 13-15 minutes, erring on the "less done" side. Is it a cookie or a muffin? Not sure. They're great though.
And finally, here is the reason I even began this post. Because I have made these pumpkin bars six times this season already. They are my go-to when company is coming over.
GLUTEN FREE PUMPKIN BARS
4 eggs
1 cup sugar
1 cup oil
2 cups mashed pumpkin
Mix in stand mixer until light and fluffy
Whisk dry ingredients in separate bowl
2 cups Bob's 1:1 Gluten Free Flour
2 tsp pumpkin pie spice or cinnamon
2 tsp baking powder
1 tsp baking soda
1 tsp salt
Preheat oven to 350. Add dry ingredients to the wet in the mixer. Spread batter into greased jelly roll pan, bake 25 minutes, cool.
Frost with cream cheese frosting: 1 stick softened butter, 1 brick softened cream cheese, 1/2 bag powdered sugar, 2 tsp vanilla or maple syrup, beat until whipped. Add drops of milk if needed (I usually add 1 tsp)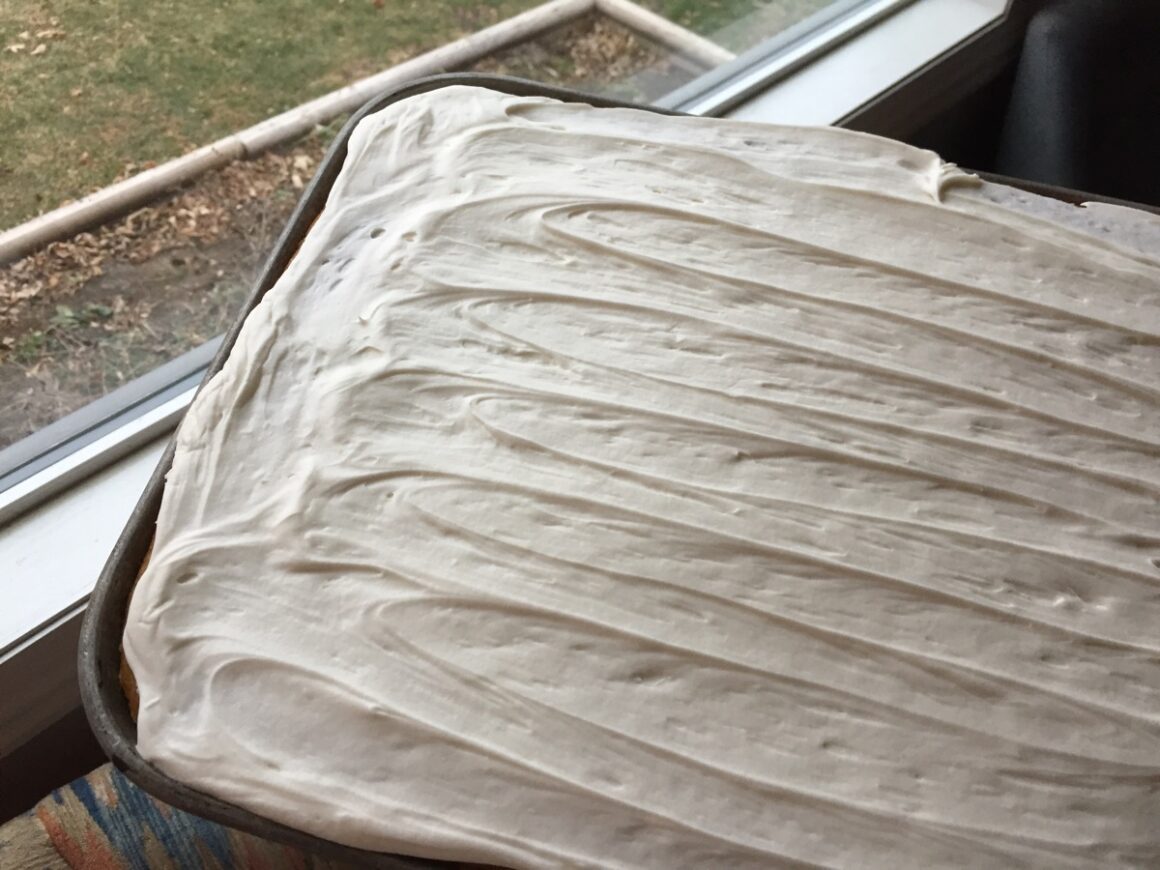 I could eat the whole pan.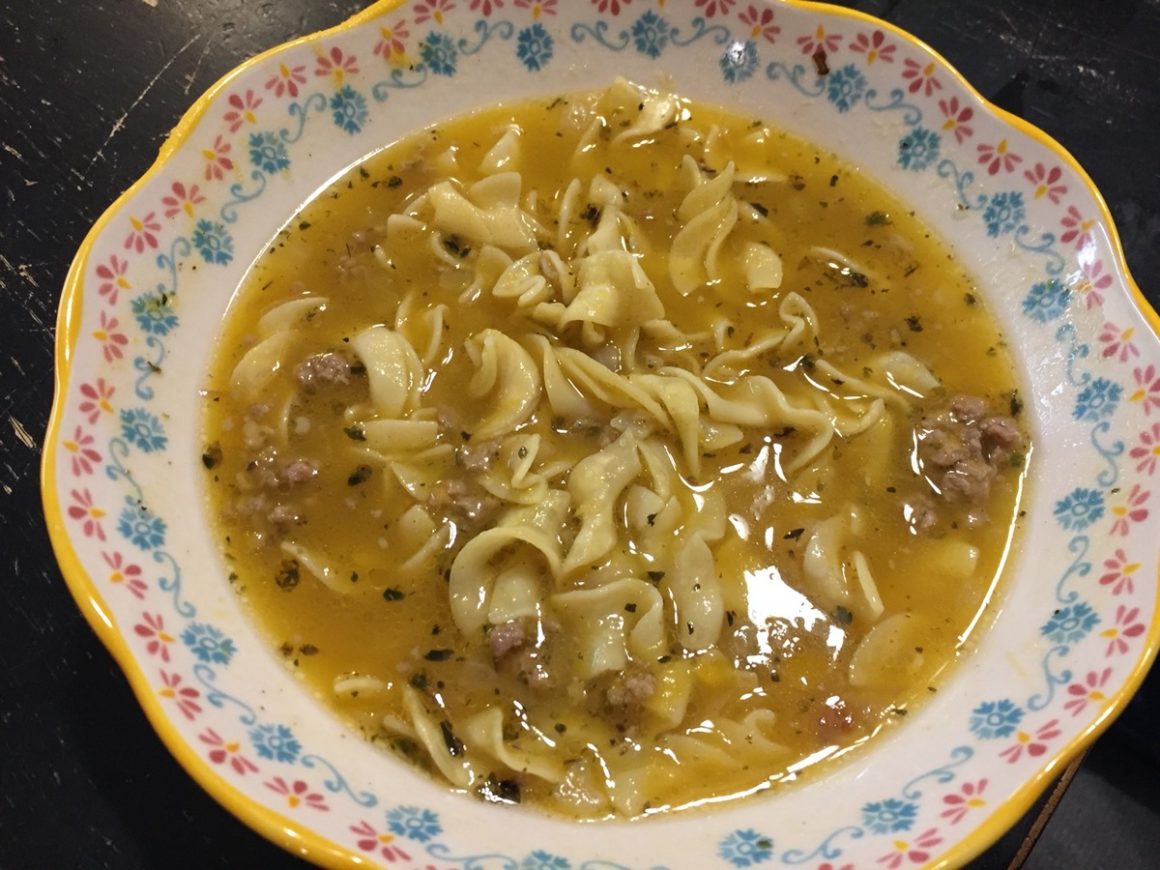 PUMPKIN IN OUR SOUPS
I make soup all winter long. Adding pumpkin requires an extra pot, but it's worth it. There is no recipe here, I'll just explain how I incorporate it. In my heavy soup pot, I put butter, onion, garlic and carrots and finally brown the meat and add the spices and seasonings. In another pot, I'll pour my broth and add the pumpkin and use my hand blender to break up the pumpkin as much as possible. It makes sort of a pumpkin broth. (If I want chunks of pumpkin, then I skip this second pot step!) Then I add the pumpkin broth to my soup, followed by chopped potatoes or noodles or rice or beans or whatever I have in the house. And a whole lot of salt and pepper (Barefoot Contessa taught me not to be afraid of salt and pepper…) My soups are never the same, but they almost always have pumpkin! Try chicken noodle soup with pumpkin. You'll never be the same.
I hope you are inspired! If you don't have pie pumpkins around, go stock up on pure pumpkin in the can. It's so good. And I bet it's good for you, too.
And I just realized I never mentioned good old pumpkin pie! One night this fall we ate stovetop popcorn, milk and pumpkin pie for dinner. It went over really well. 🙂