Last year about this time I wrote out a Farm Calendar with all the tasks for all of the animals and buildings and equipment we have to accomplish in each season.
With farming, its easy to make up front commitments when adding animals or equipment without really thinking through the long-term maintenance involved. As I continually reminded Becca last year, it was the pigs that put us over the top. Did you know 2 pigs eat 1,400 pounds of feed in 4 months? I didn't. But I had plenty of time to think about all of this on the dozen trips back and forth to the feed mill.
One of the best parts about writing out the farm chores out by season (by week, actually) was that I could see which seasons were stacking up as the busiest so I could either gear up for those weeks or reschedule other commitments as needed.
When I combined the farm chores with everything else going on in our lives I spotted some weeks that required more than 120 hours! Needless to say I recruited help during spring planting. But more often I shuffled things around or simply decided not to add that animal (why we don't have pigs this year).
There are basically four areas of attention: livestock, fields & gardens, farm goods we sell, and education–the family-based business we are in the process of starting up (aka, The Learning Farm). I did not include my regular work hours in my software business or things like homeschooling.
I subdivided everything into weekly chunks. How many hours a week does it take to feed and water the chickens? About 10 minutes a day or 1 hour a week. I wasn't trying for perfection, just a ball park so I could see where the busiest season would be, and wouldn't forget important stuff like when to put the Billy Goat in with the nannies (on my birthday).
It looks something like this:
Livestock: Chickens: Layers (egg-producers):
Feed/water/mineral salts – Daily
Buy feed – Quarterly
Buy bedding – Semi-Annually
Clean out coop – Quarterly
Summer prep – Annually

Remove extension cord
Clean and set up drip waterer

Chick prep – Annually (talking about baby chickens here)

Buy chick starter
Indoor setup w/ heat lamp
Prep incubator

Incubate replacement eggs – Annually
Move chicks outside – Annually
Integrate chicks w/ layers – Annually
Winter prep – Annually
Then the process repeats for chicken broilers, sheep, goats, hog, and honeybees. And then maple syruping, orchards, and vegetable gardens.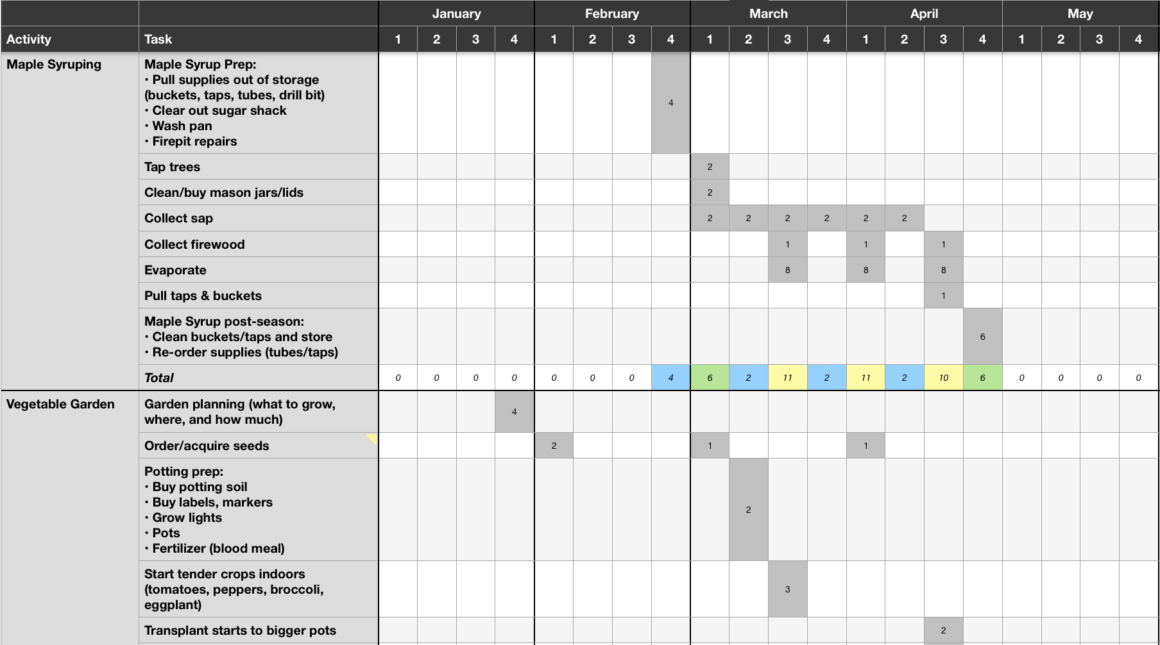 To the right of this list I have 48 columns (4 weeks per month) with numbers of hours for each task. Putting it all in a spreadsheet lets me do all the nerdy stuff like calculate total hours per year for milking the goats (80), or haying the field (94).
I also make edits and notes through the year for future reference. For example, I now know that the 3rd week of July is my stress-breakdown week. That's when the wheels come off, and I start unwinding future commitments.
A year later, the calendar has worked fairly well. I don't stick to it religiously, but its always there if I need an at-a-glance look at whats coming up the next month or two. Also very helpful for planning family vacations and work project days.
I've attached a simplified version of the calendar here in case there are farm-nerds like me out there:
Download Grovestead Farm Calendar: Mac Pages or Microsoft Excel