I've written on a few occasions of Back to Eden style gardening. Back in October my Dad and I made a pilgrimage to the Sequim, Washington in the Olympic Peninsula to meet the man who started it all and see his own gardens: Paul Gautschi.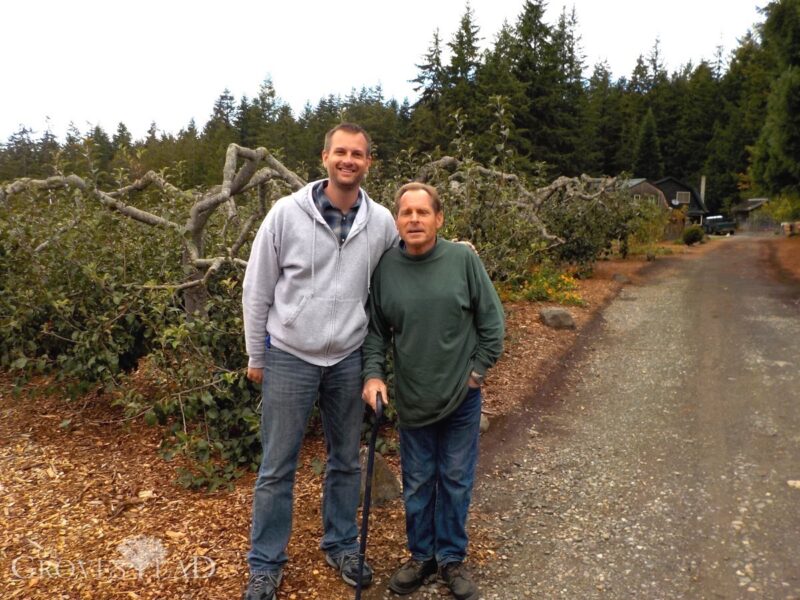 I edited together a short highlight reel that captures the essence of our visit, complete with amazing edibles and Paul's unique wit and wisdom:
The trip was unforgettable. From the moment we arrived Paul welcomed us into his gardens, offering perfectly ripened fresh fruits and vegetables for the tasting. All the while Paul described his gardening journey, declaring God's handiwork in every step. I would call it bragging on God. "Taste and see!" Paul would tell us, referring to the Bible passage "Taste and see the Lord is good." -Psalm 34:8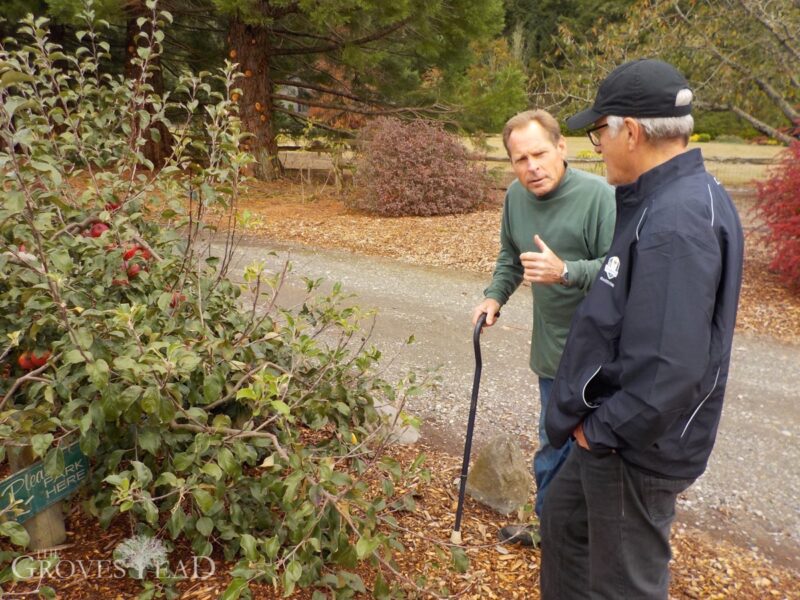 Every Sunday from April through September strangers from all over the world show up at Paul's 1/2-acre garden to see with their own eyes and taste with their own mouths the incredible bounty of his gardens. And Paul is not ashamed to share the secret of his success. For two hours or more on his garden tours, Paul preaches about the goodness of God.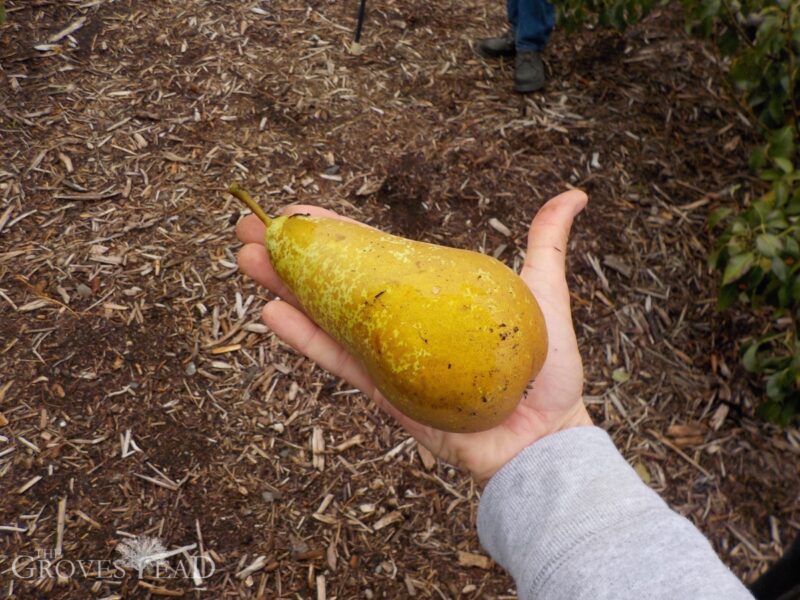 Despite the hordes that descend on his property weekly to sample his fare, he still has more food than his family can eat. "My biggest problem is abundance!" Paul would often say.
The pear I'm holding above was literally a meal. I felt full after eating it, which kind of bummed me out because I wanted to keep eating! Paul explained I felt full because I was eating live food. Fruit starts losing nutritive value the moment its plucked from the tree. When you eat live food, you're body is absorbing the maximum quantity of nutrients, minerals, and water-soluble fiber.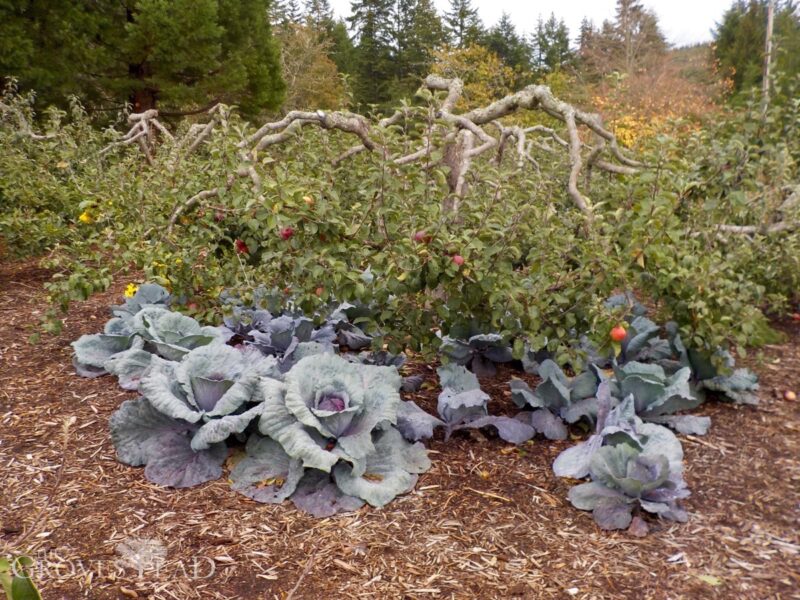 Because of the deep-mulch wood-chip gardening Paul uses, his orchards are so healthy and loaded with fruit the branches bow down to the ground. "You can't prune a tree to do that," Paul said.
The soil is so healthy he can grow many vegetables in full shade under the tree canopies. Turns out most vegetables do not need full sun — they need good soil!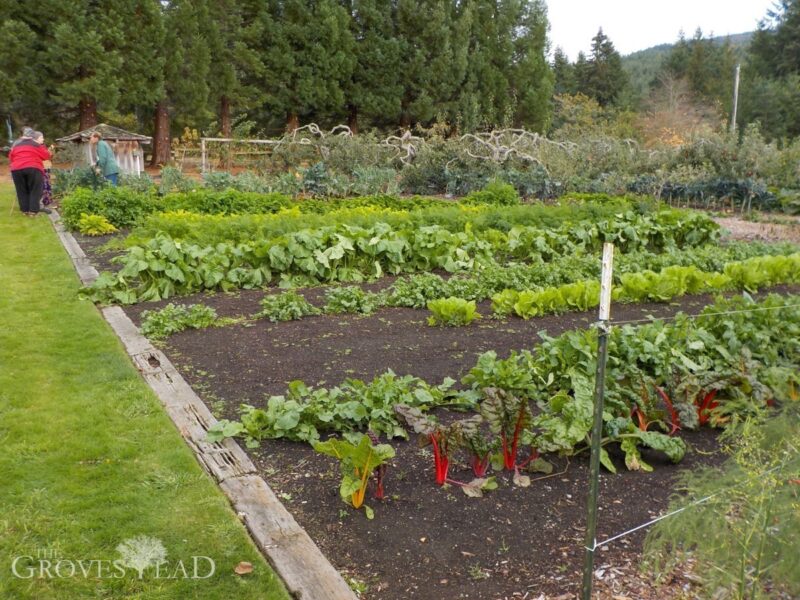 Besides abundant fruit trees, what's the big deal about Back to Eden gardening? Tasting is believing. It's hard to explain flavors I've never tasted before. The best I can do here is show you some pictures.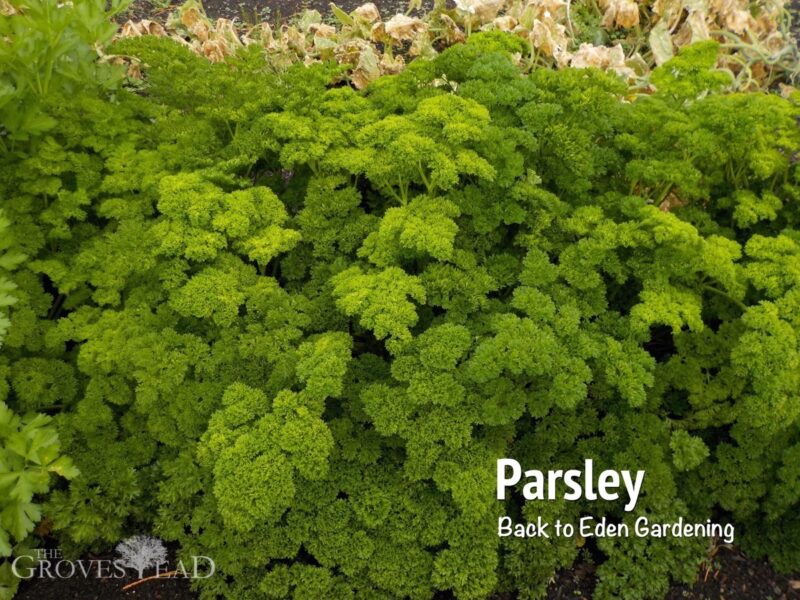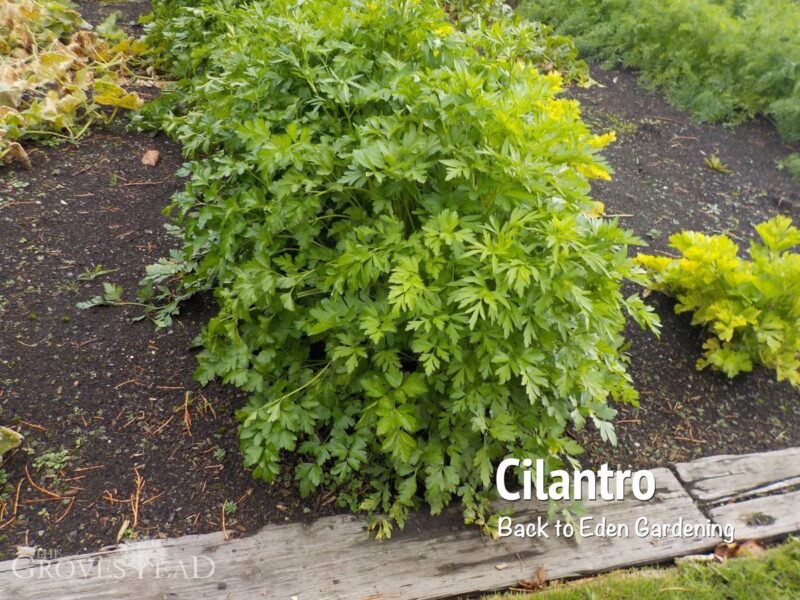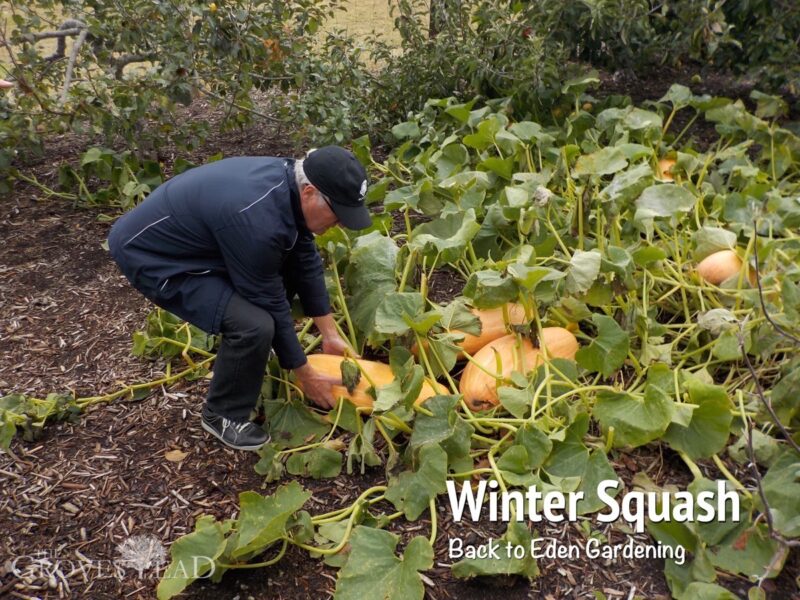 In this next picture you'll see lavender growing next to a blueberry shrub. As anyone who has grown blueberries knows, they require highly acidic soil. They will absolutely not survive in high pH environments. Yet in Paul's garden they thrive high-pH plants next to low-pH plants.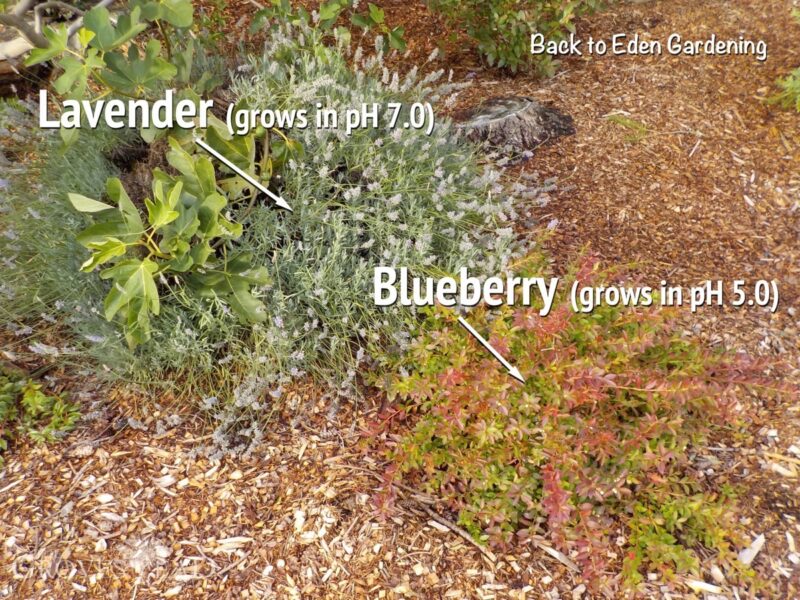 Same thing with Sage and Wasabi. This shouldn't be possible, but there it is!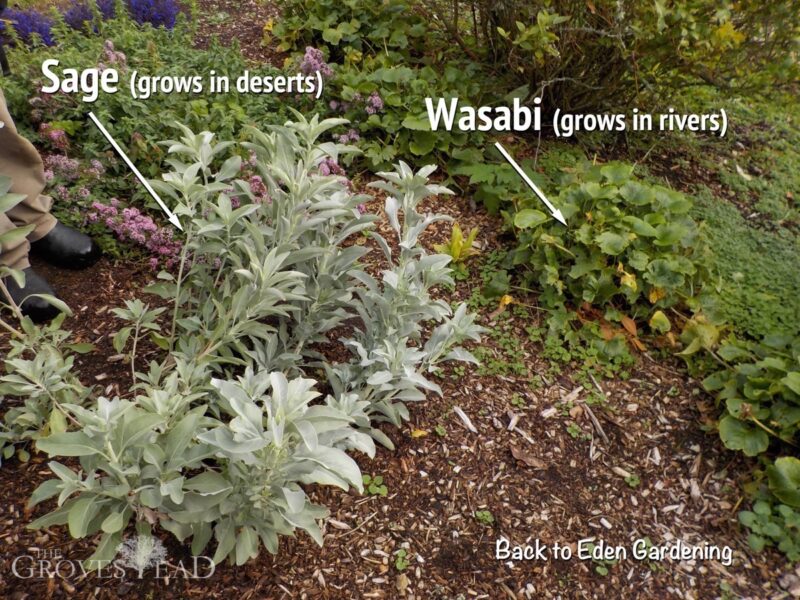 While Paul started with woodchips, he now grows all his own chicken food (they eat mostly kale and other garden scraps). His chickens turn garden and lawn waste into nitrogen-rich compost which Paul uses for a Fall fertilizing each year.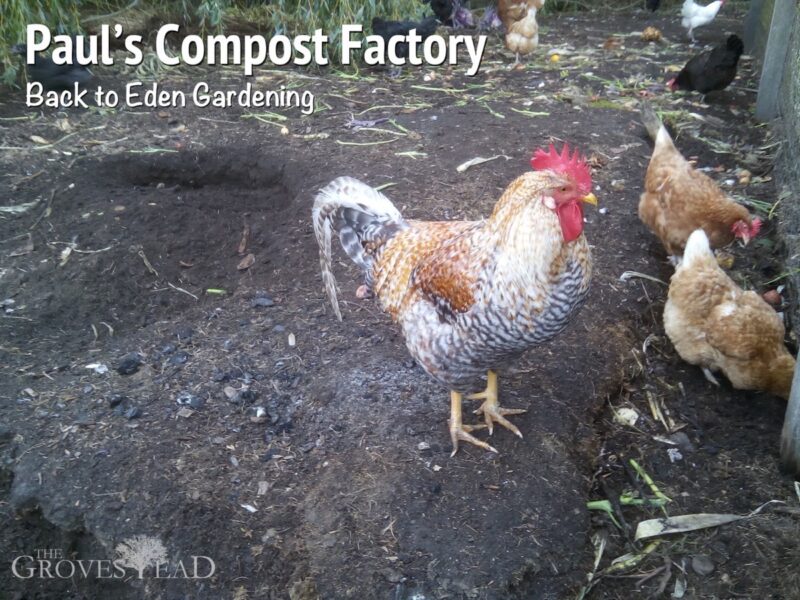 When I say visiting Paul's garden was a spiritual experience, I'm not exaggerating. Paul does not separate the things of God from the things God made. Within a few minutes of arriving, tears welled up in our eyes as Paul talked about Heaven. During the tour you come to realize that Paul's relationship with his heavenly Father is the real miracle and it leaves you hungering for a deeper spiritual walk yourself. Upon returning, my dad wrote this about our experience:
My mind and soul continue to reverberate in the aftermath of our time with Paul last Sunday. He is the epitome of God's working in the lives of a person. Here is a man whose body has been ravaged by agent orange during the Vietnam war and yet exudes the loving grace of God beyond anything I have seen. The real benefit to people who come in contact with him is the potential of another changed life coming into alignment with the God of the Universe. The garden is only a byproduct used as a tool to bring people to Him. Maybe not intentionally but that is what's happening. Wow! Thanks for introducing me to him! That time will forever be a pearl in my life!
Here is just one of many conversations we had about the goodness of God: