This entry is part of a series on Medicinal Gardening by one of our interns, Jenny Cunningham. Nettles can be found almost anywhere, but are mostly avoided because of their prickly stems which sting if touched. But nettles are truly a super food, highly nutritious and abundant in supply.
Spring greens are so nutritious and good for our bodies! I still have so many fond memories of my grandmother making nettle soup in the spring.
Nutritional Benefits of Nettles
Nettles contain 481 mg of calcium in about half a cup. Compare that to a cup of milk that contains 305 mg of calcium. So by eating your spring nettles you are getting twice the calcium as milk!
I am not saying you need to replace all dairy with nettles; it is just such a great alternative for those who are vegetarian, vegan, or lactose intolerant. Nettles are also great for those just looking for an alternative to add calcium to their diet.
Here are some other fun nutritional facts about nettles:
Nettles are the highest source of protein from wild plants in the U.S. They contain 26% protein for the calories.
They also contain: iron, calcium, magnesium, silicon, potassium, manganese zinc, copper, and chromium, vitamins A and B.
Nettles are more nutritious than spinach, kale, or asparagus.
I would argue that nettles are one of the most nutritious greens available besides seaweed or kelp. Can you tell this is one of my favorite edible medicinal plants?!
The following are a few recipes from Jenny to enjoy nettles. As mentioned before, be sure to wear gloves when harvesting the leaves.
Nettle Soup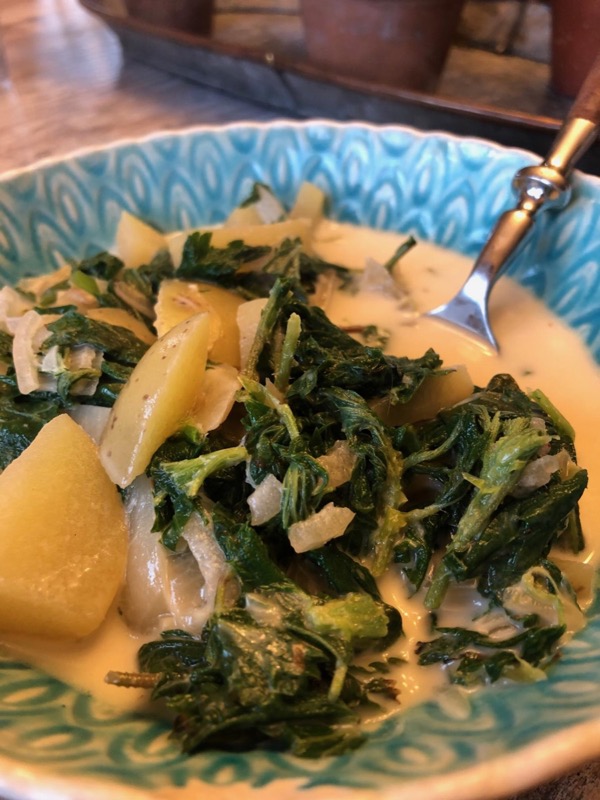 In a large stockpot:
Add a few tablespoons of butter or bacon grease
Add one whole onion sliced in thin rings, cook on medium to medium-high
Deglaze pan with 1/2 cup white wine
Once the onions are cooked through (about 5 mins) add 4 to 6 Yukon gold potatoes, diced (cook about 15 mins)
Add 2 to 3 cloves minced garlic
Add 2 cups chicken or veggie broth
Add washed, chopped nettle leaves (about 6 cups)
Add 1 cup cream or half-and-half
Add salt and pepper to taste
Feel free to add fresh herbs, chives are especially good with this.
Simmer for 20 minutes or until potatoes are cooked
Makes 4-6 servings.
Nettle Tea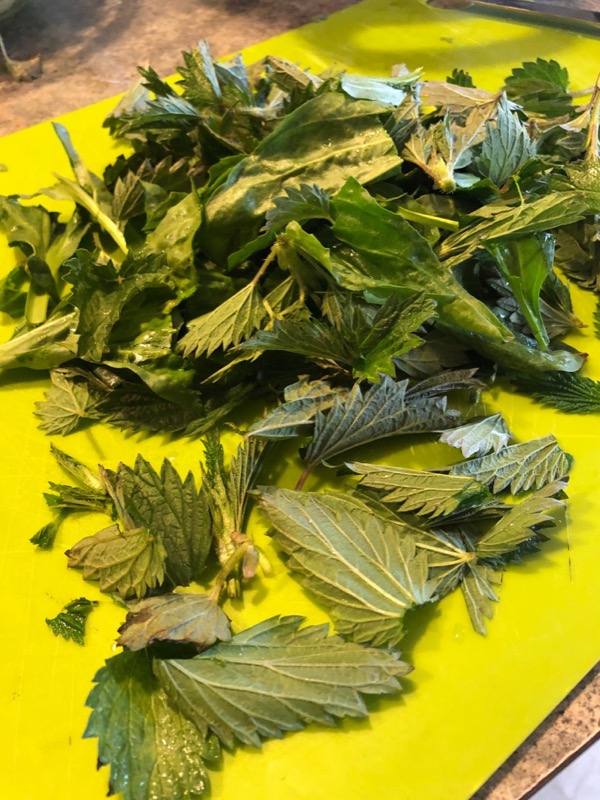 Nettle tea is a great way to make use of nettles:
Just pour boiling water over clean chopped nettles in a Mason jar.
Cap and let sit at least 15 minutes or overnight on the counter.
Strain and enjoy!
By far the most moistening, thirst quenching, nutritious drink. I like to add lemon balm and peppermint in the jar too if I have it.