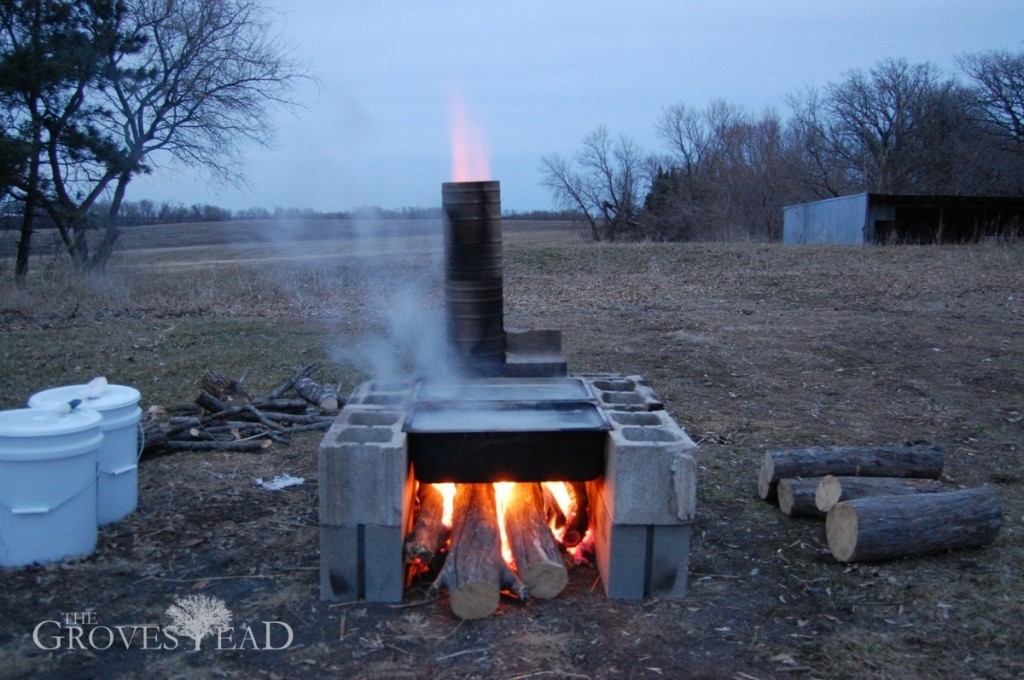 Through a good amount of trial and error last year I figured out how to construct an evaporator to boil down our maple sap on the cheap. Then I forgot how I did it. So this year I'm documenting the construction.
This plan uses about a dozen concrete blocks and was designed to fit the 5-gallon buffet pans which I use to hold the sap. These are the same style pans you see at Chinese buffets holding the cream cheese wontons. It's not as efficient as production-scale evaporators, but does the job. And the price is right (free, in my case).
Step 1

Find a level site that won't be growing anything for the next 24-36 months. Layout the first layer of block to the width of the pan.
Step 2

Align rear blocks to leave a gap for the chimney block. You might want to set the rear blocks up on spacers so the exhaust intake is higher off the ground (this will make more sense later).
Step 3

Add the second layer of blocks on top of the first. I built this evaporator to accommodate two pans, but you could easily extend it to support three. One block (the chimney) should span the two rear blocks so that you see straight through to the ground from the top.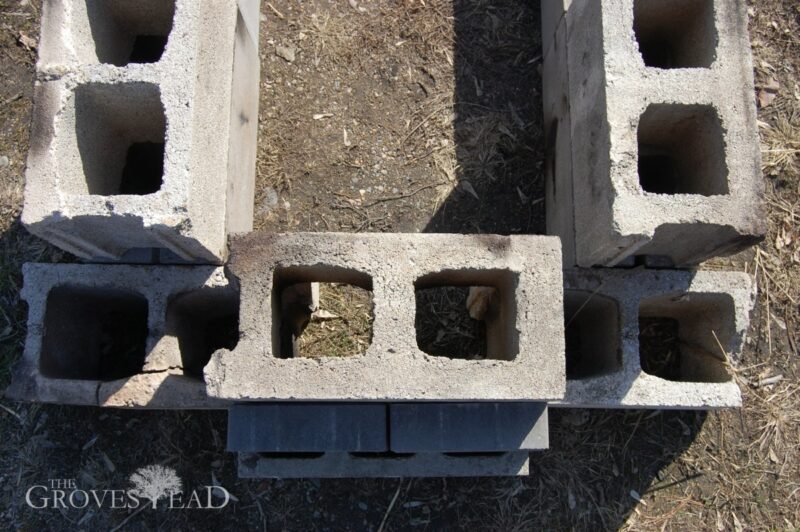 Step 4

Use another block to cover the open space below the chimney block, and use a couple bricks to cover any gaps around the chimney. It's not going to be airtight, but anything you can do to contain the fire and keep it on the pans will improve efficiency (less fuel, faster evaporating).
Step 5

Create a chimney flue at least a couple feet above the top of the chimney block. I used old tiling we found on the property. But you could use any kind of ducting or even a few more concrete blocks stacked vertically. The idea here is to vent the exhaust away from the pans. Simply boiling the sap over an open fire would cause a lot of ash and soot to land back into the sap.
Just beware, the exhaust coming out will be extremely hot! As you can see from the flames coming out of the top on the first photo — it looks like a jet engine!
Enjoy the fire!

Finally, light a fire and pull up a chair. I usually wait a good 20-30 minutes before I have enough coals to put the pans on and start boiling sap. After that I just keep feeding the flames. It always amazes me how much fuel it takes to evaporate sap.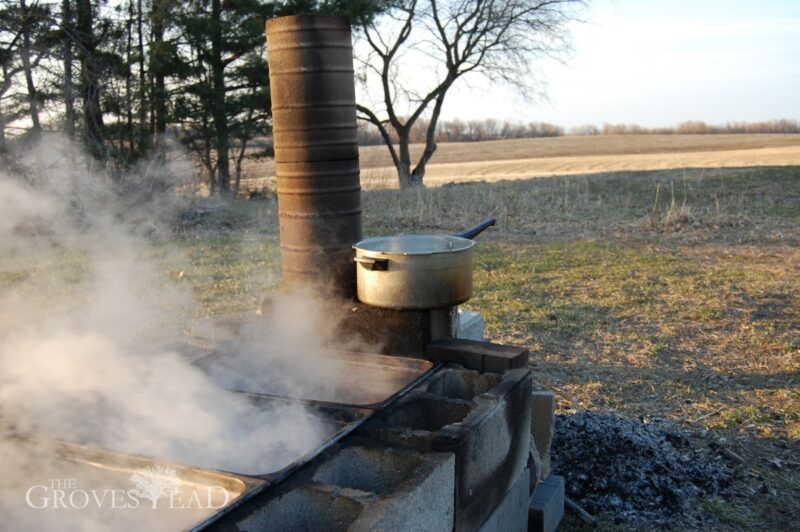 I can shave a little time off the process by pre-warming sap in a separate pan over the second chimney hole. Just keep in mind you're boiling away 98% water, so it's going to take awhile. In my experience, it takes about an hour to boil 5 gallons.