Last week I roasted one of our whole chickens and threw down a challenge for myself: Could I feed my family a week of dinners from this one bird? It was one of our free-range, pasture-raised birds. And when you raise, butcher and roast that bird, you do not want one part to go to waste. I am happy to report this bird most definitely did not go to waste. It fed us four whole dinners, plus the bonus Minestrone Soup, pictured above.
Roasting a whole chicken is no longer overwhelming to me. It has become the new frozen pizza in this house. It's mindless, everyone likes it, I throw it in the oven and bam! We have something to eat. I roast my chicken in a roasting pan with olive oil and seasoning salt for about 90 minutes and flip the bird about 45 minutes into baking.
To be honest, learning how to roast a whole chicken took me a few attempts. The meat thermometer is the only way I ever figured out what the bird would be like when we went to eat it. So give yourself some grace if learning this for the first time. But once you have mastered it, the possibilities are endless.
When the chicken is cool enough to touch, I will take all of the meat off the bird and chop it to be used in a variety of recipes. Then the bones, skin and cooking juices ALL go into a big stock pot, covered with water. Lots of veggies are welcome into that pot if we have them on hand: onions, carrots, celery, kale, garlic. If we don't have veggies, I still will make chicken stock. Cover all of it with water and then let it simmer on low heat for a few hours (3 or 4 is what we usually do), adding water occasionally to keep it covered. Strain it and behold: your VERY OWN chicken stock! Grandma would be very proud.
That first night I began by serving:
Chicken Fried Rice with Pineapple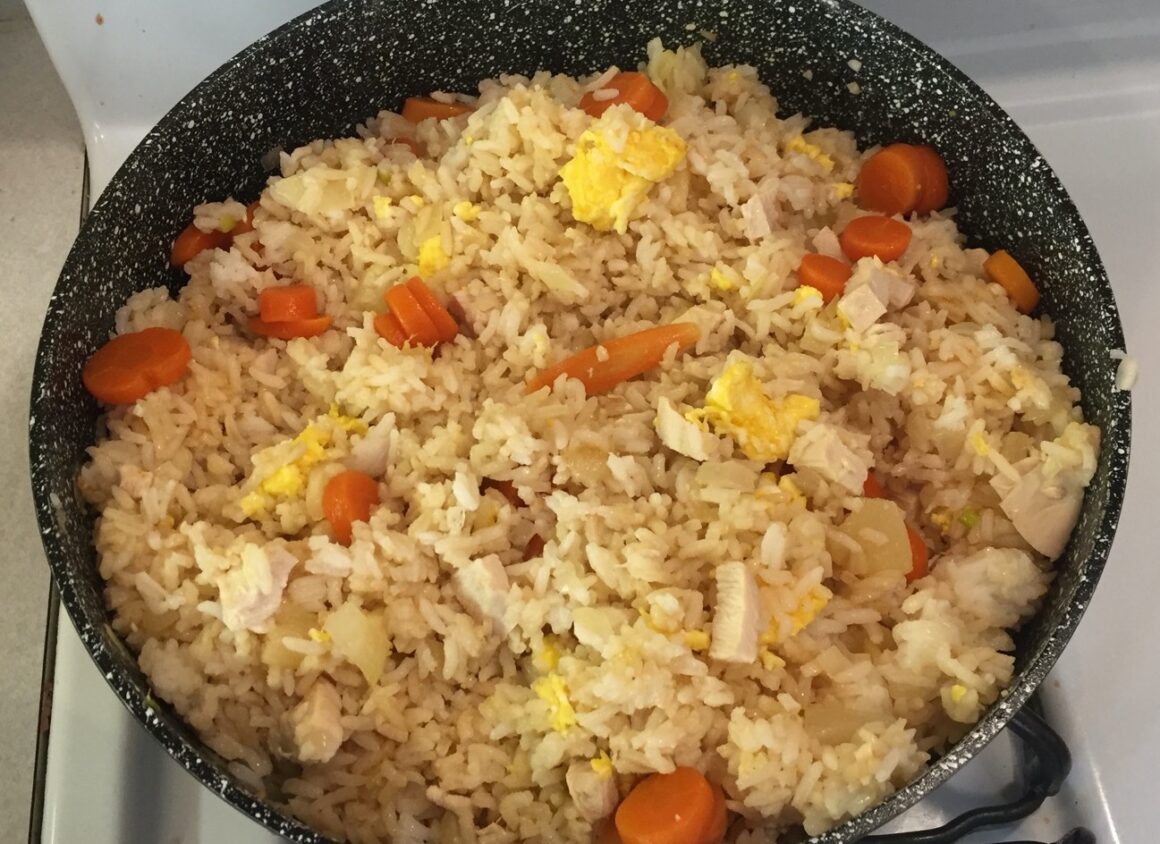 This is a family favorite. Earlier in the day I put 3 cups of rice in the rice cooker and then let it cool and dry out in the fridge. Sometimes I spread the rice on a cookie sheet in the fridge to make sure it really dries out a bit.
I start out by throwing a large diced onion in some hot oil, and then some minced garlic. Then I add the rice, the juice from a can of pineapple tidbits, a whole bunch of soy sauce, one-third of the diced chicken and whatever frozen or canned veggies we have on hand. Fried Rice is a "what's leftover in the fridge" dish. In a separate, small skillet scramble up 2 or 3 eggs. I add those very last and then salt to taste.
I have no exact measurements but I will say that Ina Garten taught me on her cooking show not to be afraid of salt, and I am not. This Fried Rice is so, so good and the highest compliment is when Ivar announces at a meal he likes, "It's like we just went out to a Chinese restaurant… only way better."
Tuesday night I used one-third of the chopped chicken for:
Grandma's Chicken Salad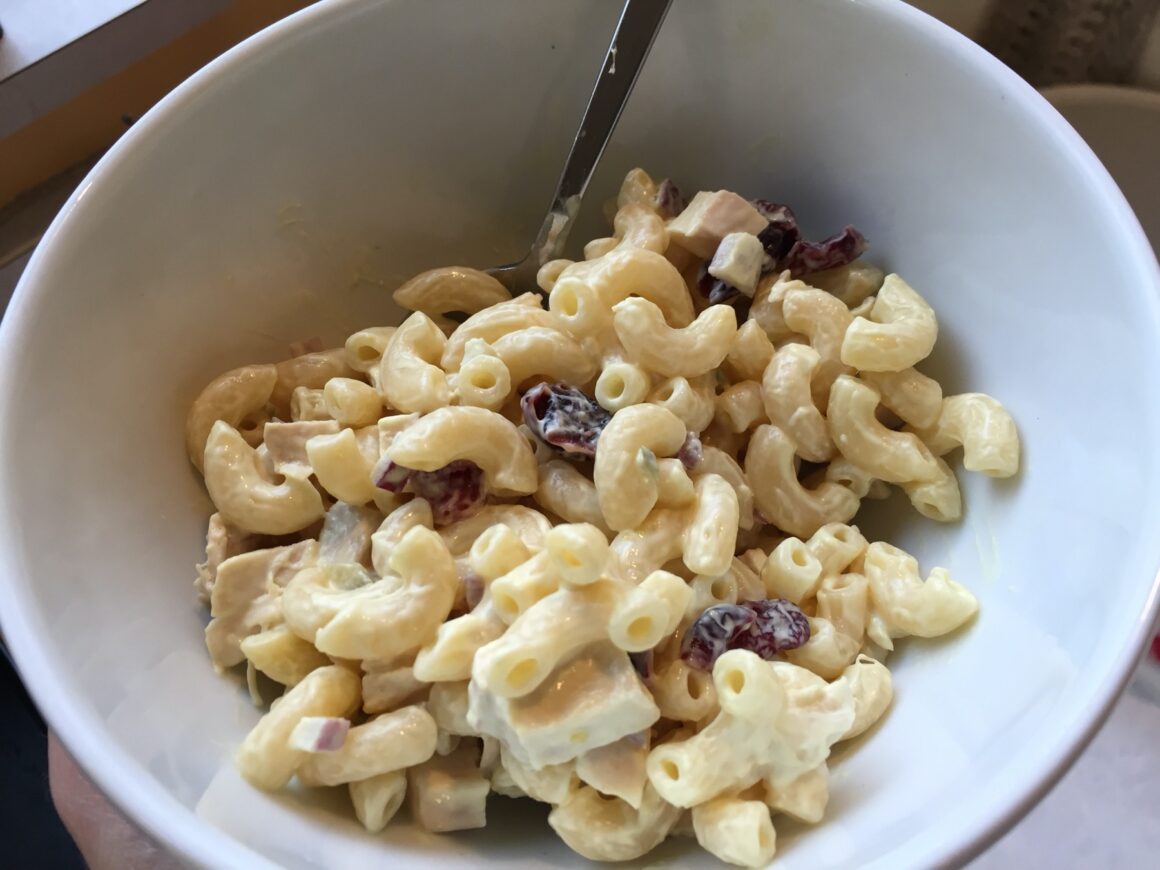 The family goes wild for this one. And I always make A TON of it. It is simply macaroni noodles (or whatever small noodles you have on hand) boiled al dente, drained, and thrown into a bowl of ice water to stop them from cooking, and so they will not simply absorb the dressing when I mix it all up.
With my noodles cold and drained once again from the ice water, I add a chopped purple onion, a cup of craisins and another 1/3 of the chopped chicken. And then the secret sauce: 1 1/2 cups mayonnaise, 2 tsp mustard, 2 T. sugar, 2 T. white vinegar. Mix this all up until you love it. Personally, I always add a bit more vinegar, but I tend to lean towards heavy-on-the-vinegar in all things.
Once everything is mixed together it is best to let this sit in the fridge for a bit, if you have the time. Even 30 minutes is helpful. Then I salt my salad, just because of Ina Garten.
This is another meal that works well with whatever you have on hand. My mom puts grapes and celery in hers. You can't actually go wrong.
Wednesday night I took out that beautiful chicken stock and added two quarts of tomato sauce to make:
Tomato Soup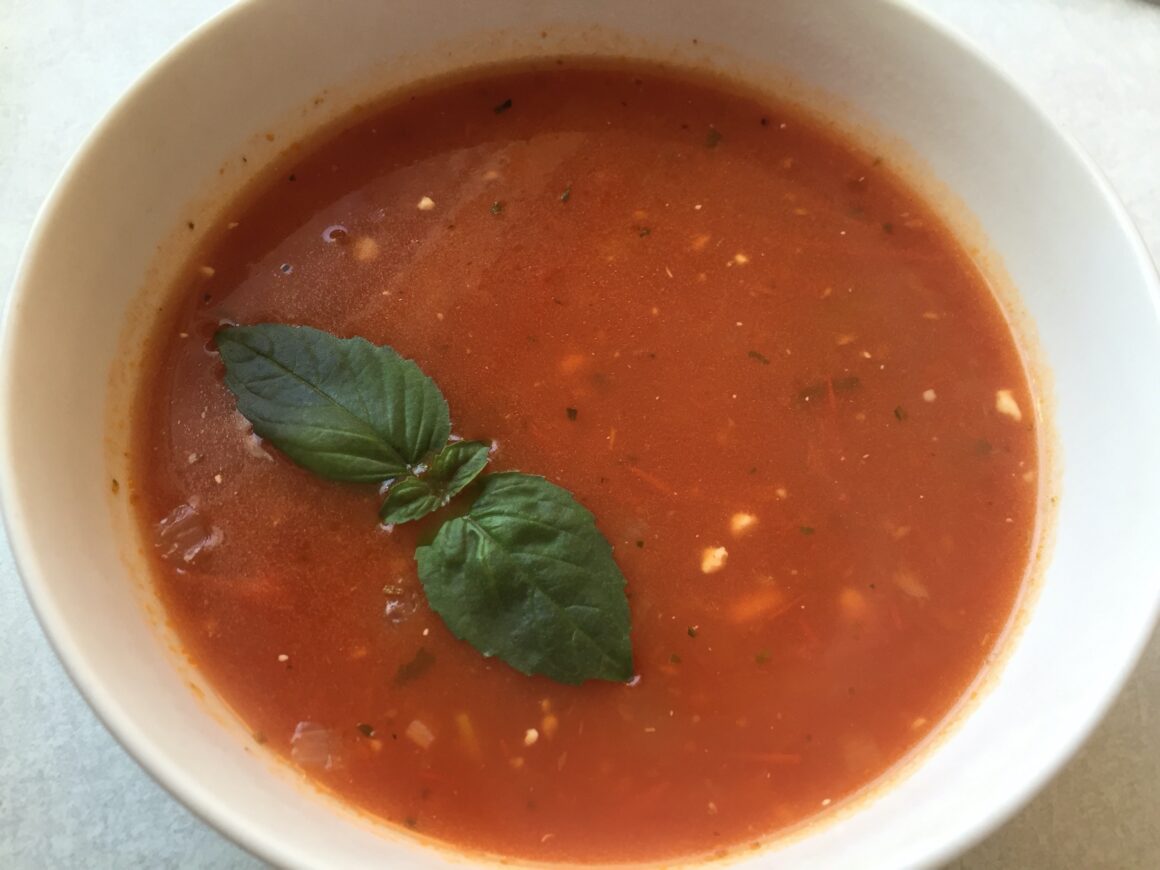 My tomato soup is a little-of-this-and-that. But I find it most important to saute a big onion and lots of garlic in a separate skillet, along with dried basil and oregano. Then I add all of that into the tomato/chicken broth. I'll add salt, pepper, a bit of cayenne pepper, a bit of sugar and in this batch I tried cream cheese thinking it would be nice and creamy, but the cream cheese flaked out on me and left little globs all over.
We ate it with garlic toast and everyone loved it. The recipe was based off Taste of Home. I LOVE any recipe from Taste of Home because they all feel very down-to-earth, tried and true.
Thursday night I made Pioneer Woman's pizza dough in the morning, homemade bbq sauce in the afternoon so for dinner we had:
BBQ Chicken Flatbread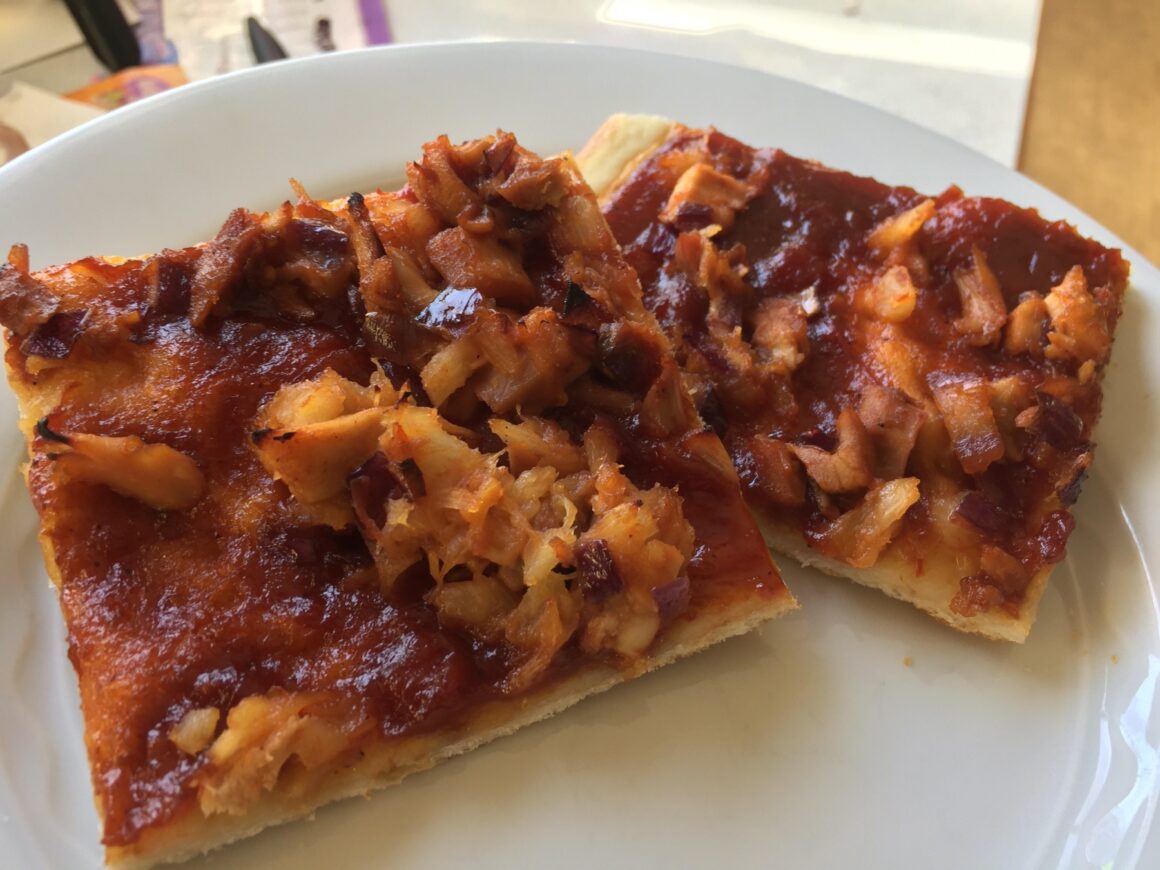 "Flatbread" is a fancy way of saying, "we are out of cheese." But I will say that this was exceptional without the cheese. In a big skillet I threw in a large, chopped red onion, oil and garlic. When that was just a little soft I added the last 1/3 of chopped chicken and generously seasoned with Lawry's seasoning salt, added a drained can of crushed pineapple and mixed the whole thing together.
I split the dough between two huge cookie sheets, coating the pans with lard before adding the dough. Then I poked holes in it with forks, put a generous amount of bbq sauce on each one and sprinkled the chicken/onion/pineapple mix all over both of them. They baked, one-at-a-time, for 12 minutes at 450. The crowd went wild. Ivar said, "It's like we went out for pizza!"
And finally, this one is just a bonus. I suppose it counts, but it's basically leftovers of leftovers! Friday night I looked in the fridge, found the tomato soup, added another quart of chicken stock, and made:
Minestrone Soup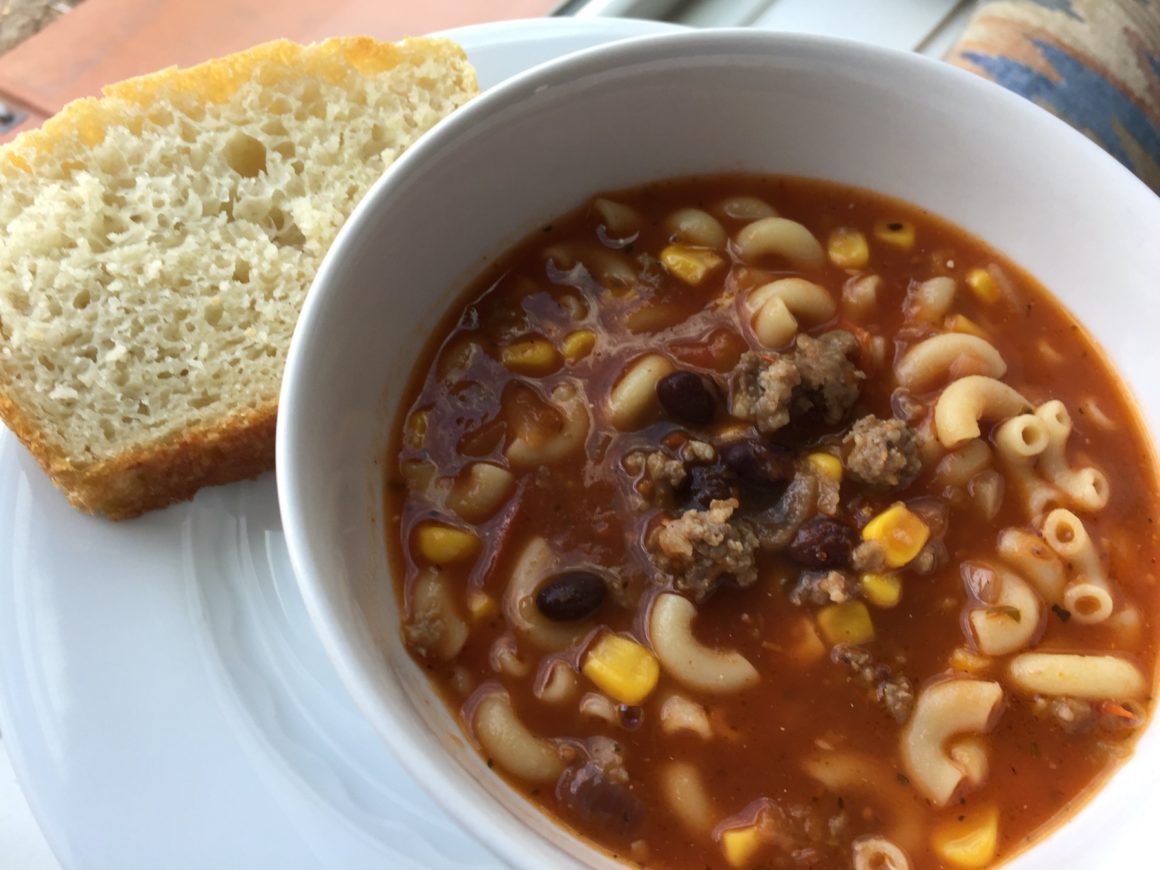 I boiled some macaroni noodles, drained them and put oil on them, only to be added to the soup right when being served. (This soup is too good to ruin it with mushy noodles.) I browned up a pound of pork sausage, a big purple onion, garlic and 2 T. of Italian seasonings. Then I added all of that to the tomato soup, along with a drained can of black beans and a drained can of corn. I salted and peppered the whole thing and we ate it with homemade bread.
I the end, SIX of us ate this chicken FIVE nights in a row. When you do the math and figure I fed 30 mouths with one 20 dollar bird, it comes out to be quite a great deal.