Oh my. This is a real love story. It's full of twists and turns, dead ends and steep campsites. And spoiler alert: it all ends with two exhausted love birds er…parents, dropping the camper off at the rental site and driving all the way home with the camper keys still on their own keychain. A classic ending, I'd say.
So back in mid July we were hours away from buying a pop up camper from a lady on facebook. We went to visit the camper, and it had a few repairs so we waited a month for it to be repaired. And then the day we were to pick it up, she called to say Hilltop needed another month to work on it.
I backed out. We didn't really want a camper for September. We wanted it for all of August and even July. And now I know this disappointed moment was a real grace to us, because we would have died in a pop up camper. Not for real, but it would be been so, so crammed. A disaster. Clearly a dream birthed from a mother who was feeling quarantined for too long. 
We looked for rentals, and they were all so expensive but then Rory's brother Troy rented from outdoorsy.com and the rates were fantastic. It was a great deal and we can't wait to use this site again and again. (this is not a sponsored post…I just was so glad to find their site!) They even have a deal where some owners will set their rig up for you at specific campsites. It means we could rent a rig from Duluth, have the owners set it up for us at Gooseberry, drive up and enjoy the camper, never having to hitch it to our car! A remarkable thought, given the stress, worry and strain of carting the thing around with our wee and mighty minivan!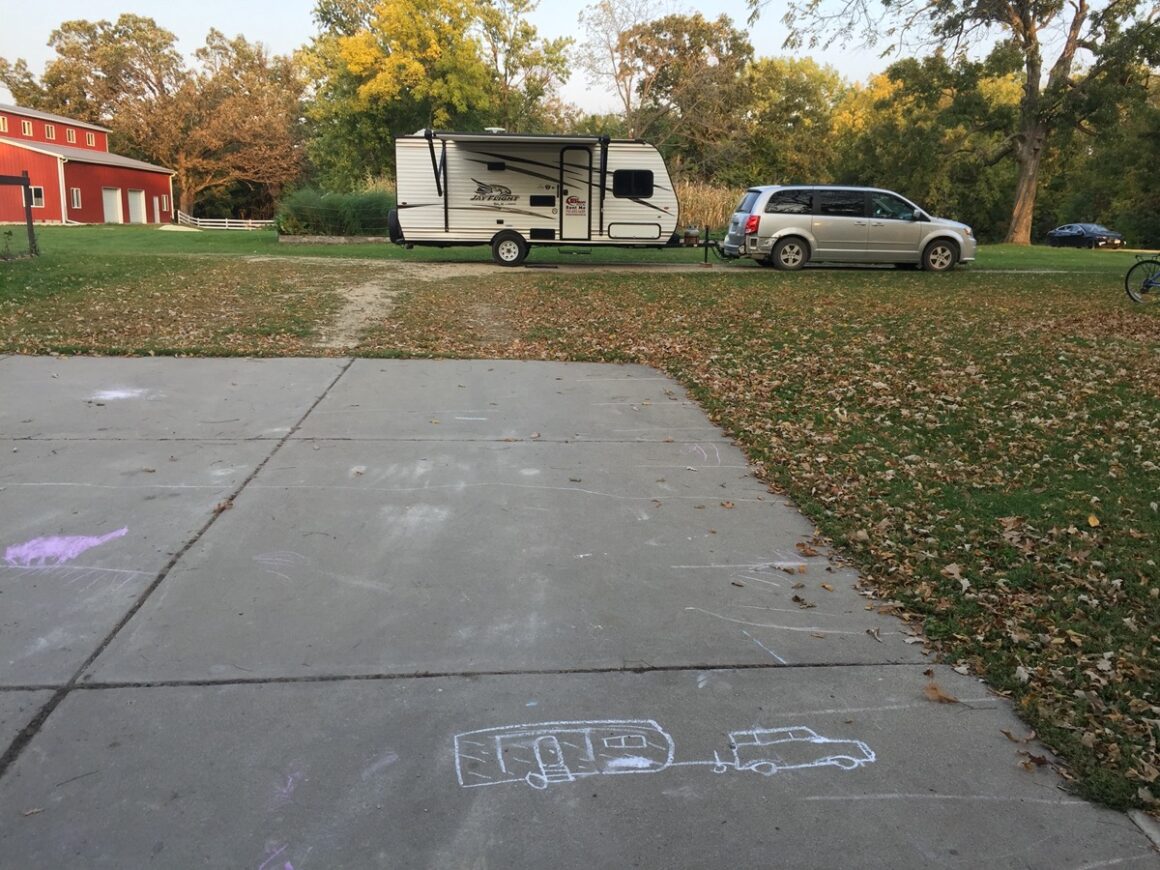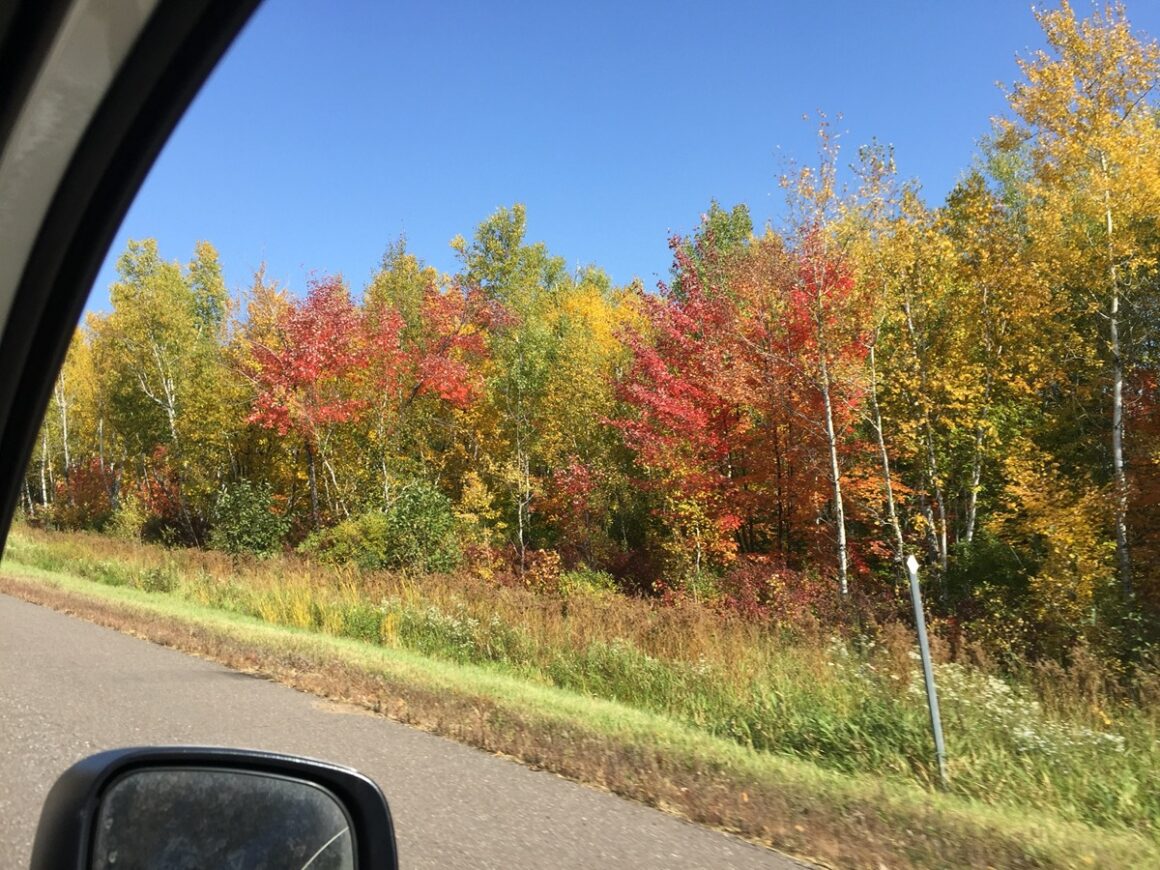 At any rate, we loaded the camper up before we left, drove north in a rainbow of colors and found campsite 63 at Gooseberry State Park. We drove by it very slowly the first time. "That can't be for campers. That must be a tenting site. How would you back into that site. There is no runway. What kind of site did you reserve?" I scanned the papers, while saying, "oh no. oh no." as we stared up the narrow drive with the three large boulders that ran up the incline on one side, and the large pine tree on the other side.
We drove to the park host and asked him if 63 was for campers. "They're all for campers!" he said kindly. We asked if we could switch to another site that was flatter (half the sites are not used because of covid). But he said he couldn't make any switches, so we drove back to site 63 and got out of the car. Rory said we could give it a go. It would be tight, but maybe he could get it up there. But first we should go fill the water tank.
So our third drive to the site, I got out of the car and began what I now refer to as the 3:00 state park soundtrack, In this soundtrack one person is yelling, "ok, back, back, turn it hard. Harder. Ok, now straight. stop. stop. STOP!!! Ok. Go forward again. straighten it out. Ok, now turn. harder, turn it harder. HARDER! TO THE RIGHT! Ok, stop. Stop. STOP!"
This went on for a while, until a tall man from the site across the road appeared. He had a shirt with a Jim Elliot quote on it. I said, "Is that Jim Elliot as in the missionary martyr Jim Elliot?" He said yes. I said, "Oh thank God you are here! Really, truly. We need you."
And then he took over, all calm and confident. Rory gunned our mighty minivan that couldn't really, but suddenly could, and up the camper went, right onto the pad. Those rocks were so intimidating. (And incidentally, it should be noted most sites had no rocks and no incline. We actually walked around looking for sites to pick next time and decided that really any of them, would have been better.)
This new friend was named Tim and he and his family were like real deal angels helping us put wood under the wheels using their own level to level out the trailer. They were even there when we discovered that Gooseberry has no electric or water hook up. (Surprise! I didn't even know this was a thing! Rory will make the reservations from here on out!) And Tim helped Rory light the pilot light to get the fridge running, maybe? Honestly I have no idea how anything worked. Rory charged the battery from the car once in a while. And we had water in our tank so we were able to use the toilet. And the last night we heated the unit with the propane tank. But I still don't know how everything worked because I was dishing out sugar and finding fun adventures with the kids.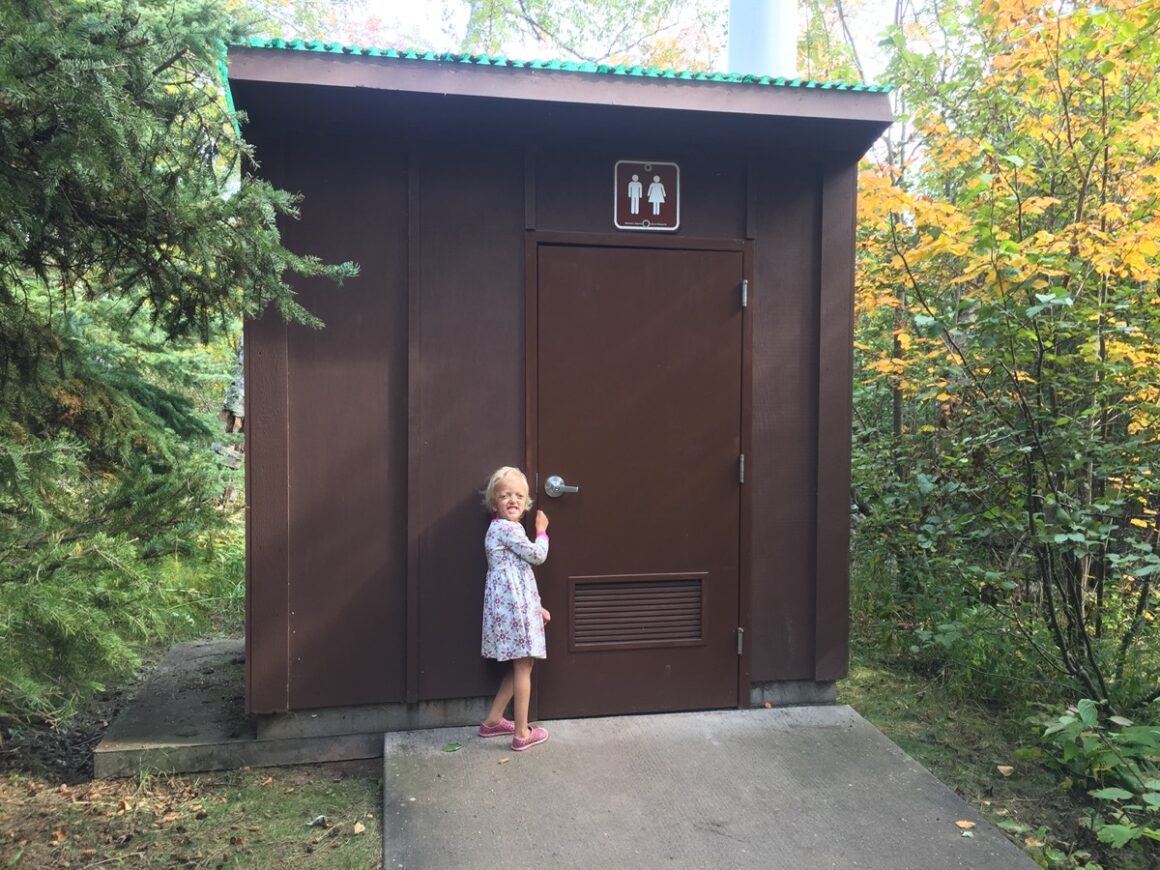 (A frequent adventure was to this building. Hattie's favorite place was the outhouse. I would go inside and then she'd knock on the door. "Who is it?" "It's old layday" "Well old lady, you should come in." "I don't want to. I'm just an old layday." We played this over and over and over. Mostly because I was often inside with Alden or Elsie waiting for them to go.)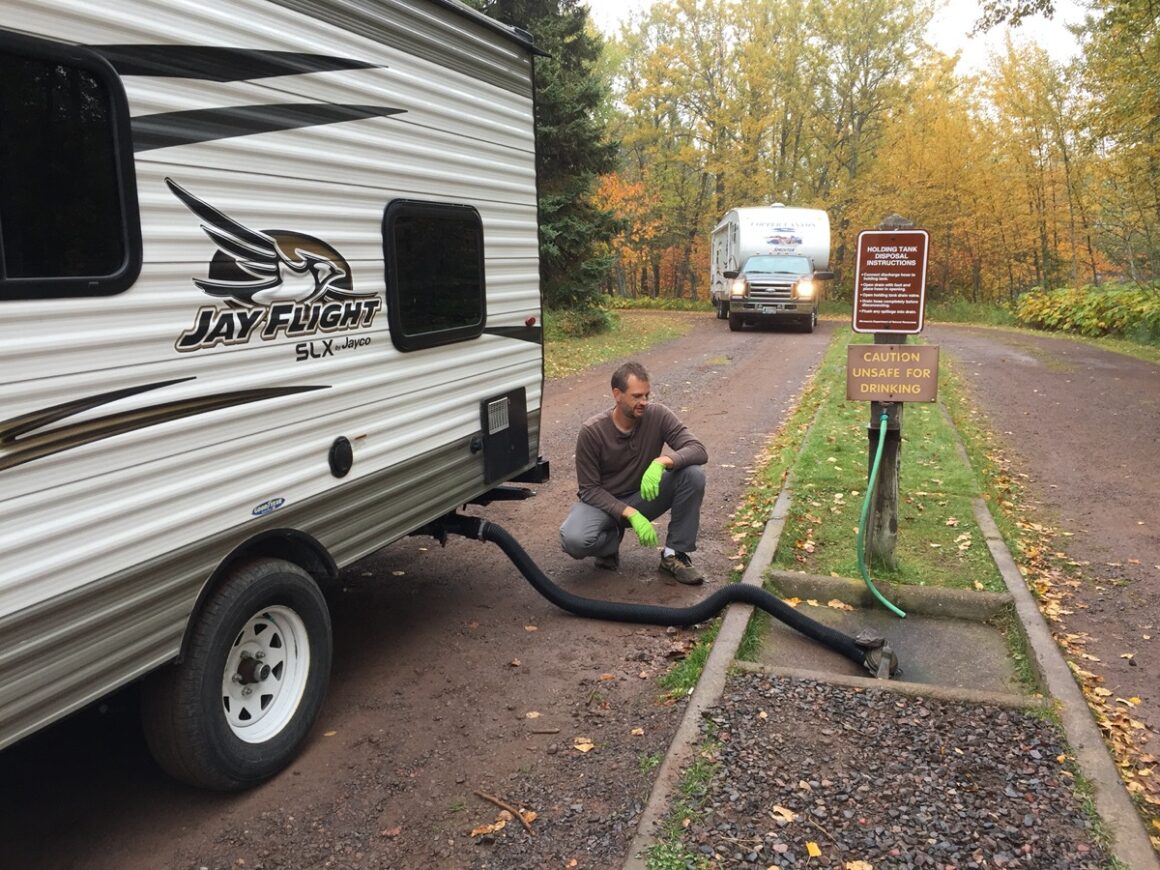 But the camper was great. The learning curve was so steep for newby's like us, but we did it. Rory was remarkable and I am hopeful we will have many more of these adventures in our future.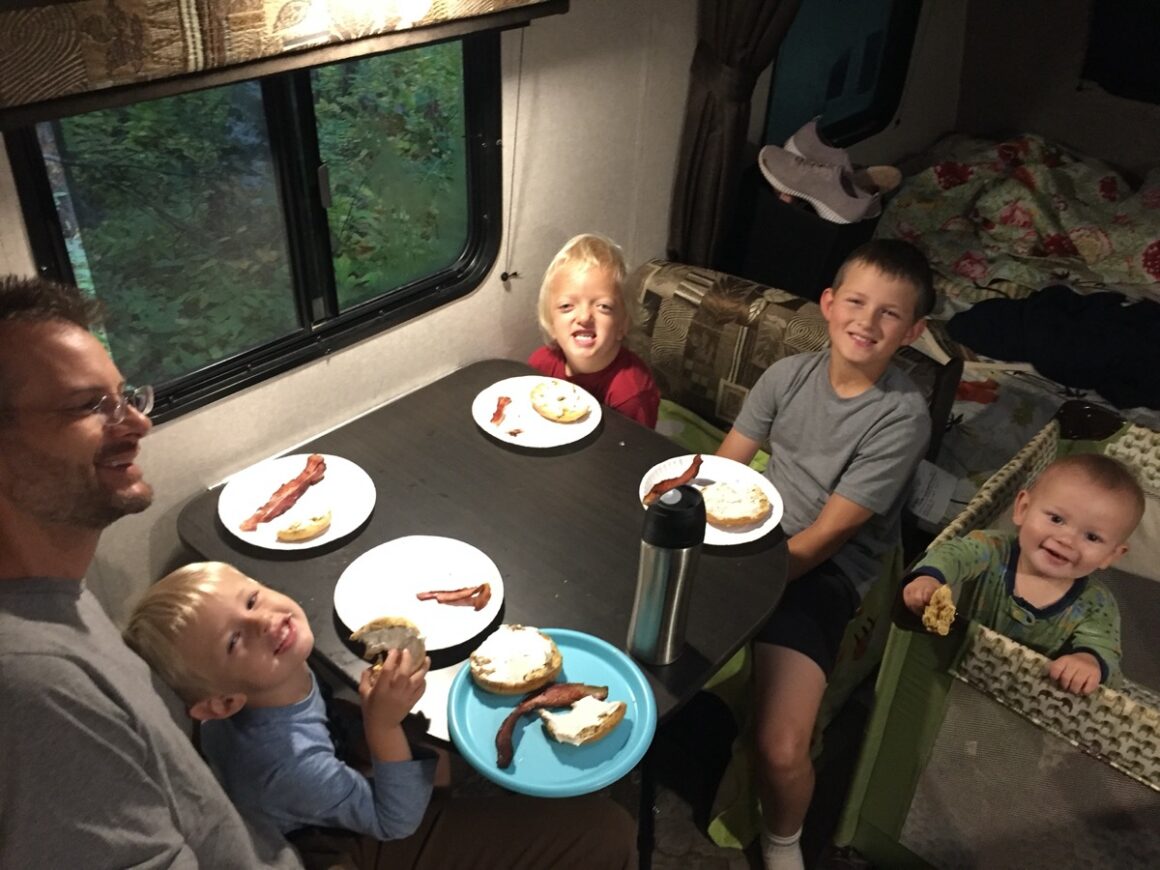 It was cozy. And a little too tight with a pack-n-play in the aisle. But what are you going to do? Ivar slept on the top bunk, Elsie and Alden slept feet to feet on the bottom bunk, Hattie on the bed that was also the kitchen table and Elias in the aisle. Rory and I were in the front bed and it was a riot. A memory. A good time. And not always great sleep.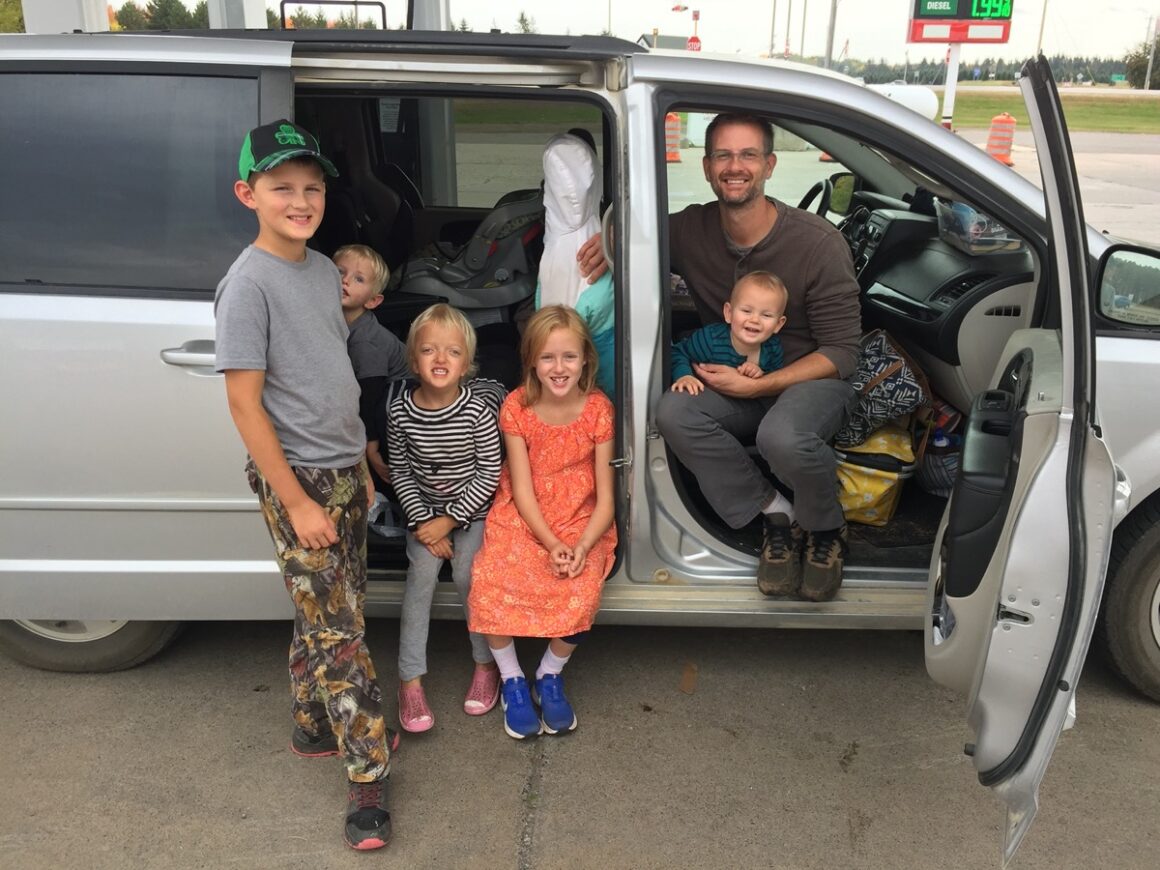 It took us eight hours to drive the trailer to drop off in Buffalo and then back home. We saw lots of Minnesota that day. And the kids were champs. They got lots of fun snacks and even though each kid took their turn letting us know they were over it, we made it. 
…and we sent the keys in the mail first thing in the morning.