We have a favorite children's book in this house called The Relatives Came. It's a darling book about a family visiting their relatives in another state. "It was summer of the year when the relatives came," the book starts out. "They came up from Virginia. They left when their grapes were nearly purple enough to pick, but not quite." The relatives helped with house projects, weeded the garden, prepared meals, and mostly, enjoyed being together.
We lived this storybook over the past week. Our relatives came up from Kentucky, Alaska, and Minnesota. Rory kept pointing this out and would quote lines from the book that perfectly matched the joy of having our relatives here for the week: "And then it was hugging time. Talk about hugging! …You'd have to go through at least four different hugs to get from the kitchen to the front room. Those relatives!"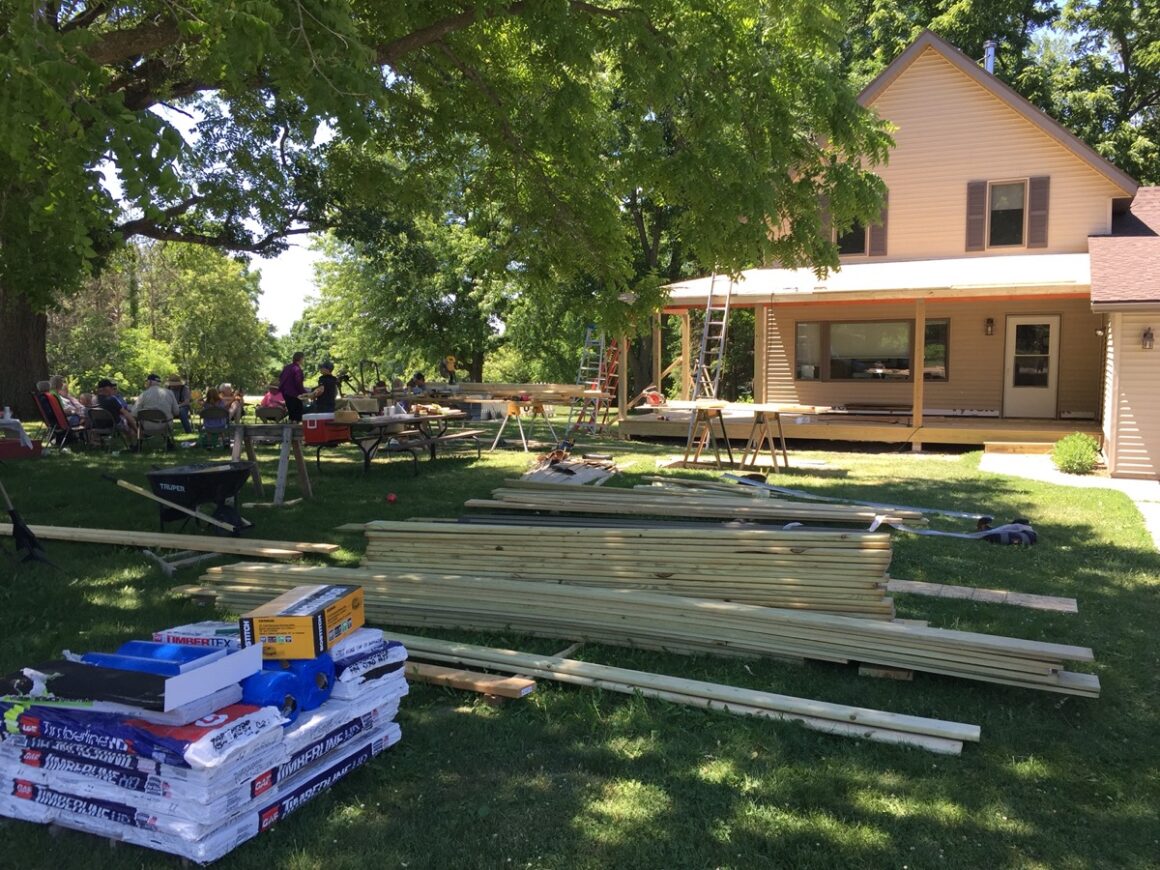 My mom's three brothers Paul, Wayne, and Carl came to build our new porch, along with my brother-in-law Jedd. Super interesting to me, the spacing of my boys is the exact same as the age spacing between my uncles. In the pic at the top they are matched up: Uncle Wayne and Ivar are both the oldest by six years, then the others are a bit under two years apart. AND! In both families there are two girls born in that six year spread between the oldest boy and the middle brother. I just think that's worth pointing out.
And then these generations worked together. Ivar was a part of every minute of this project and worked diligently. Rory kept telling me at night, "I am learning so much, and Ivar is learning right alongside me." My uncles were mentoring my husband and my son. And they were all getting to know each other, even in the summer heat and their most exhausted moments.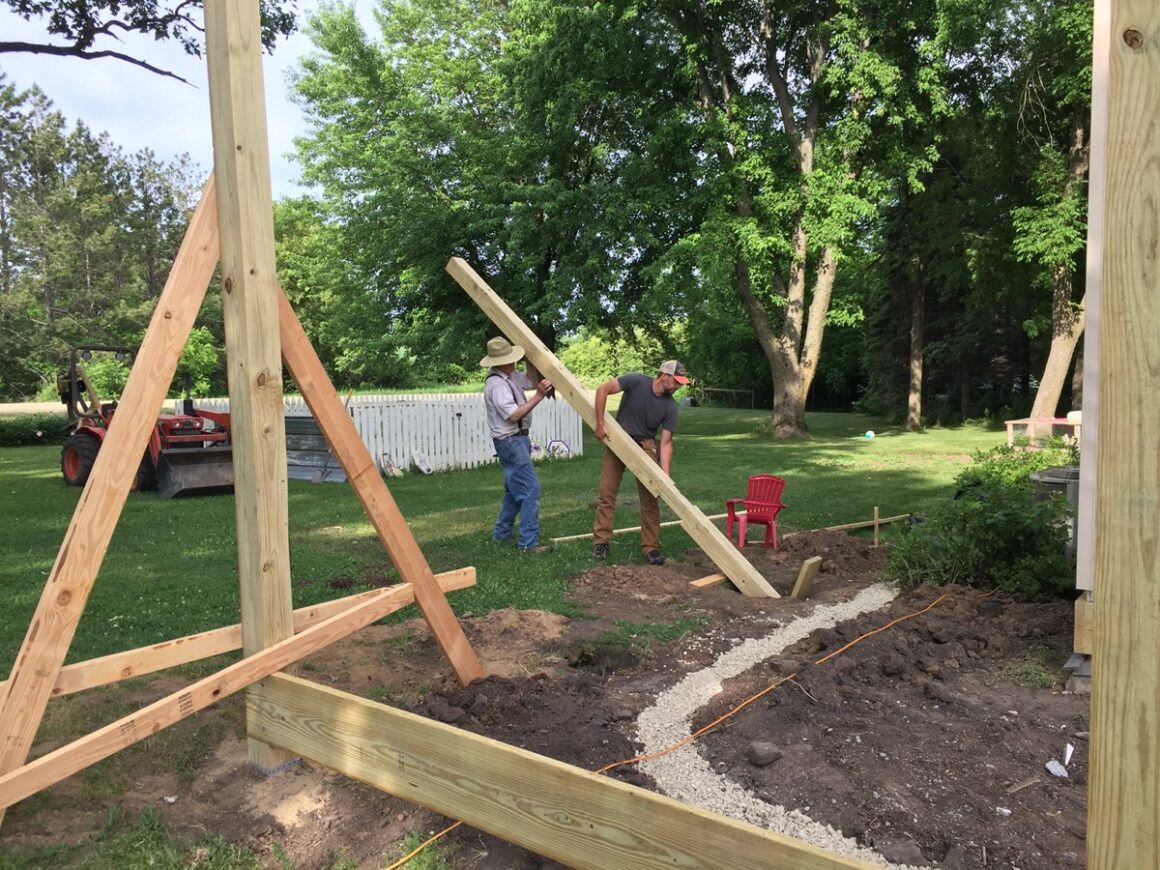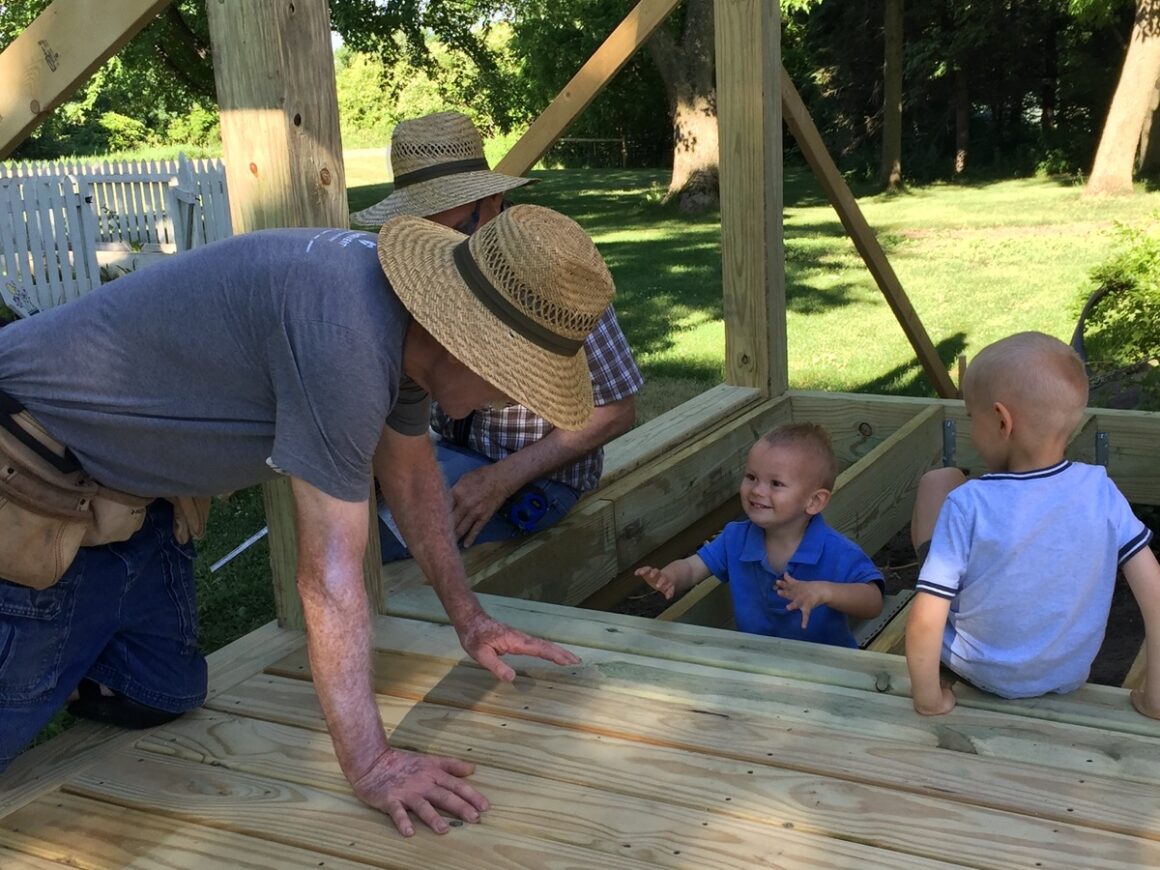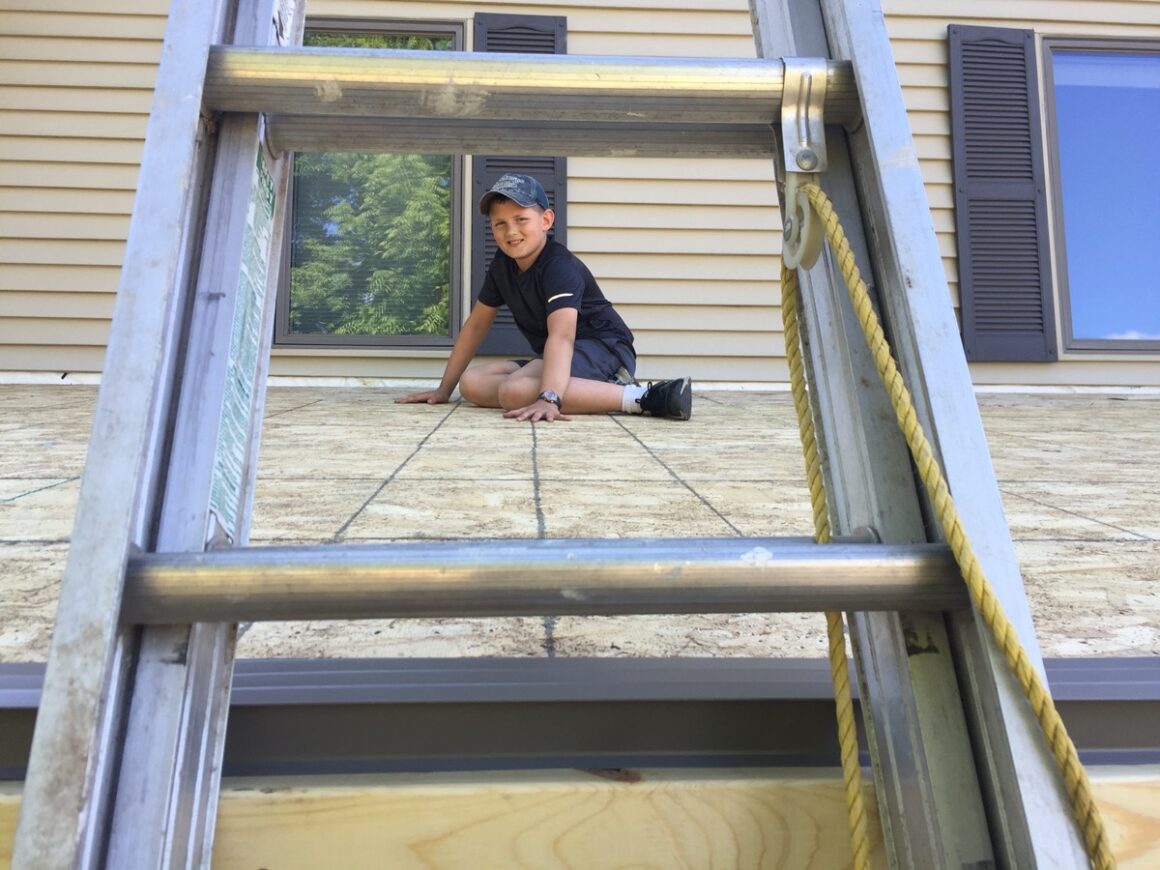 My job was to keep everyone fed and hydrated. A huge job for five hard working men. (And a barnyard of animals!) And even though I would never say I am a natural at this sort of thing, I felt like I grew into this role over the last week. By the last day I even remembered to have the coffee brewed when it was time to serve dessert. That was a big deal for me! I fed dozens of people breakfast, lunch, and dinner and it went well. We were all learning and growing!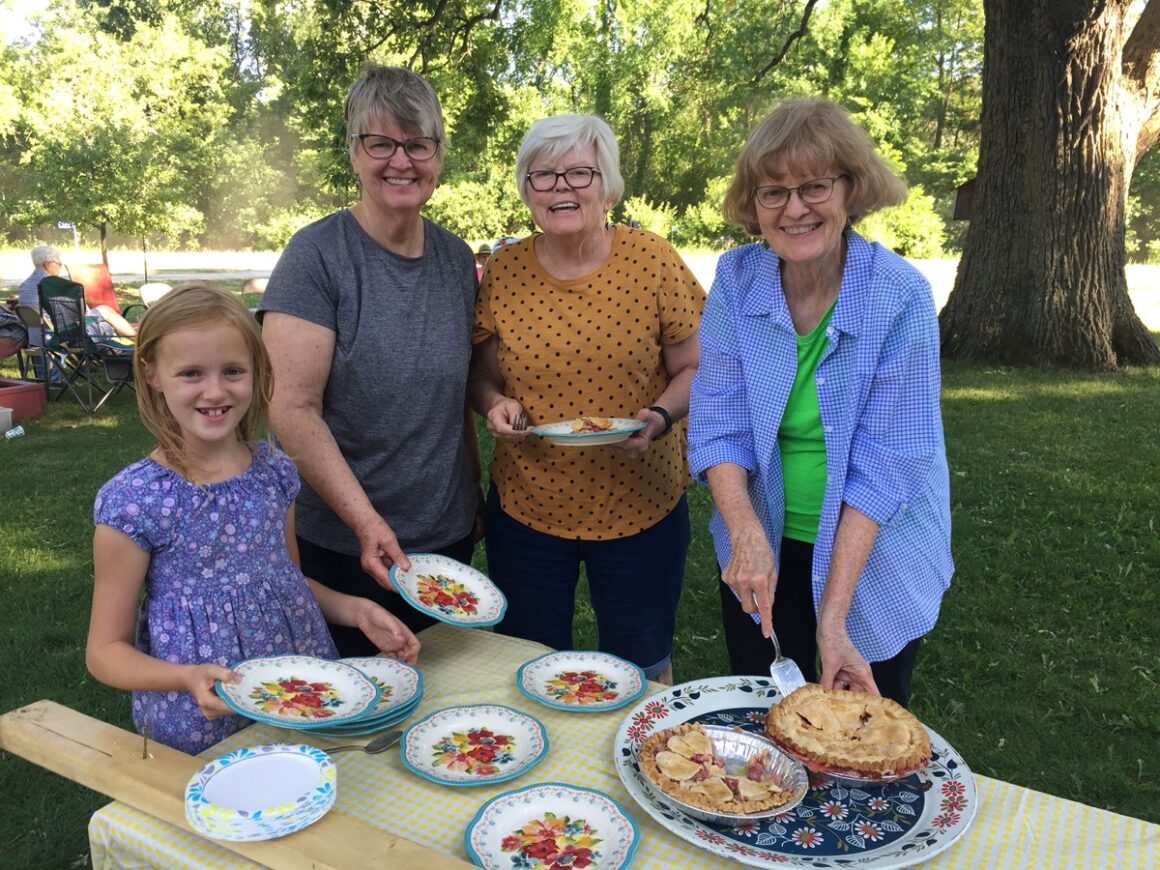 Aunt Annie brought her rhubarb pie and Aunt Louie made Asparagus on Toast for her brothers with asparagus from our garden. Then she and Elsie went and weeded ALL of my potatoes. Just like in the storybook!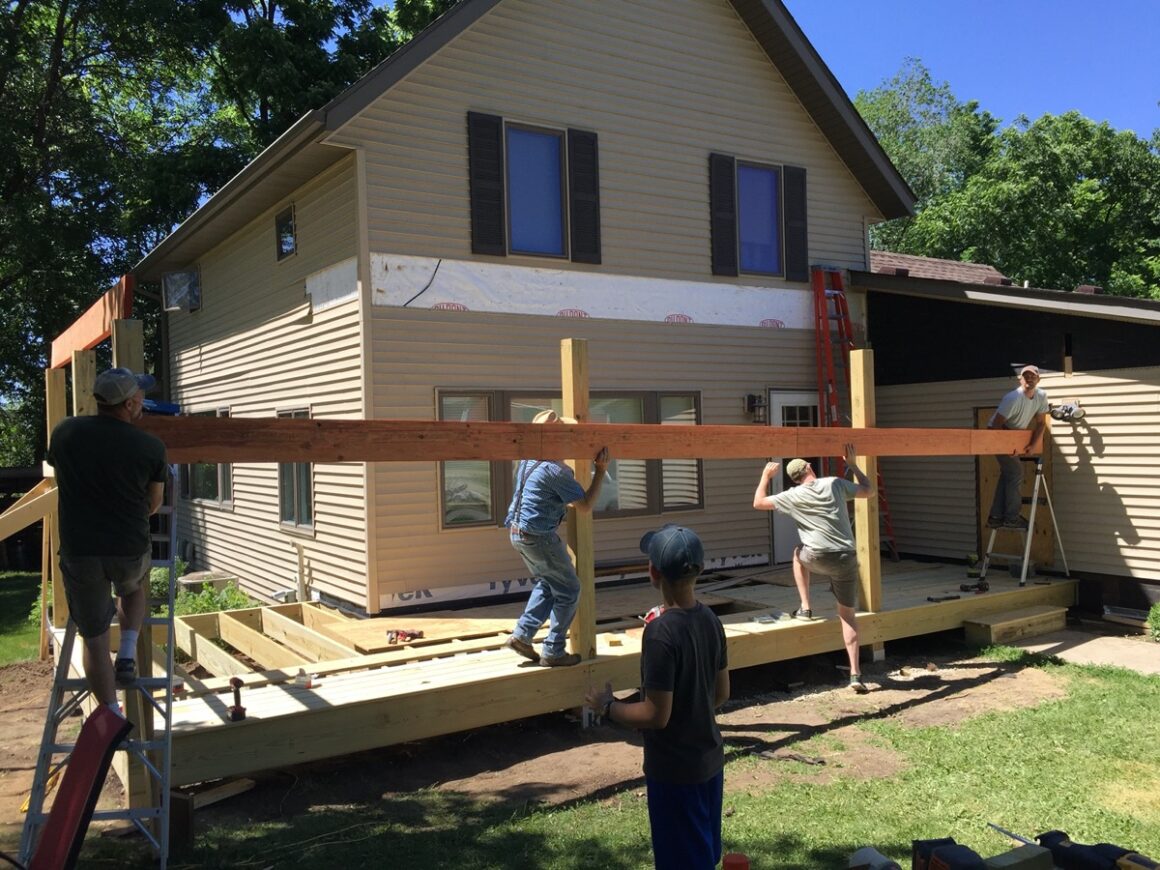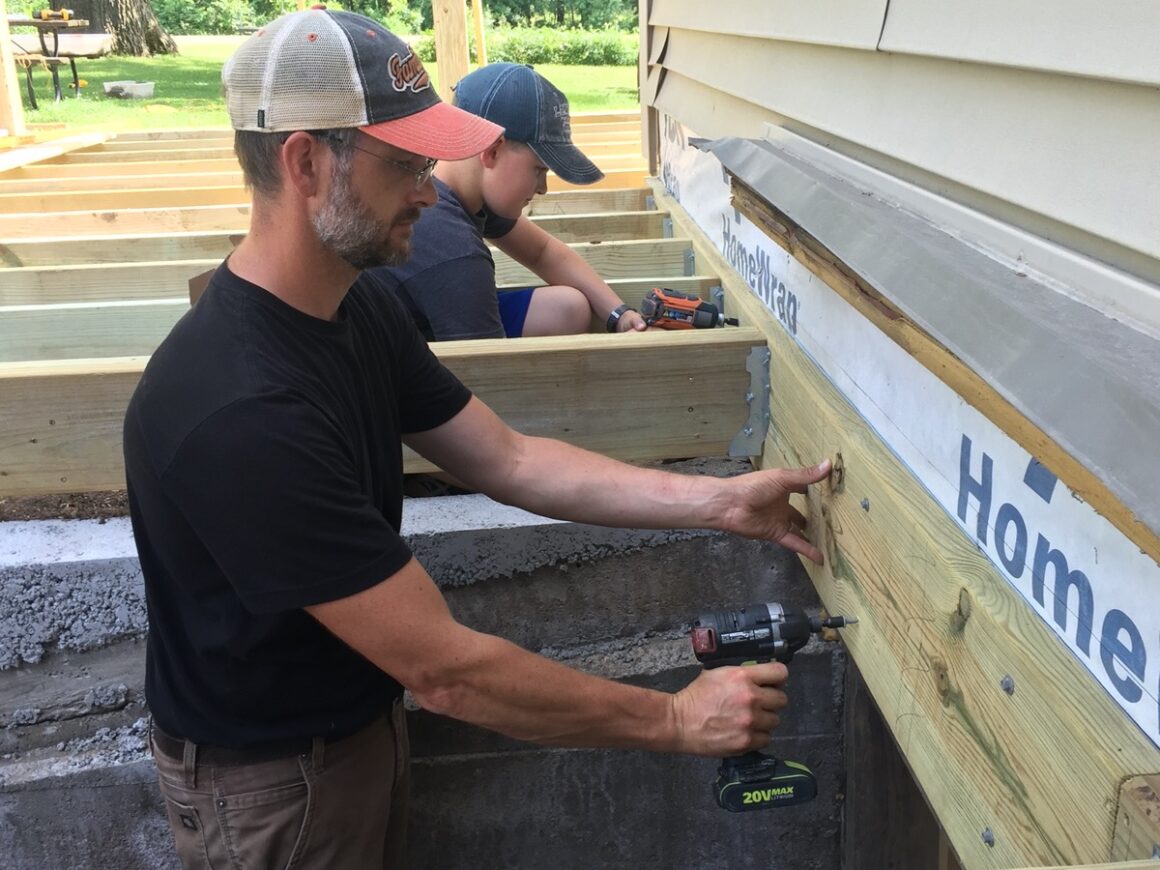 And all the while, huge progress was made on the wonderful porch addition. But we also had time to play. One of the nights we flew kites that Uncle Paul and Aunt Connie brought our kids.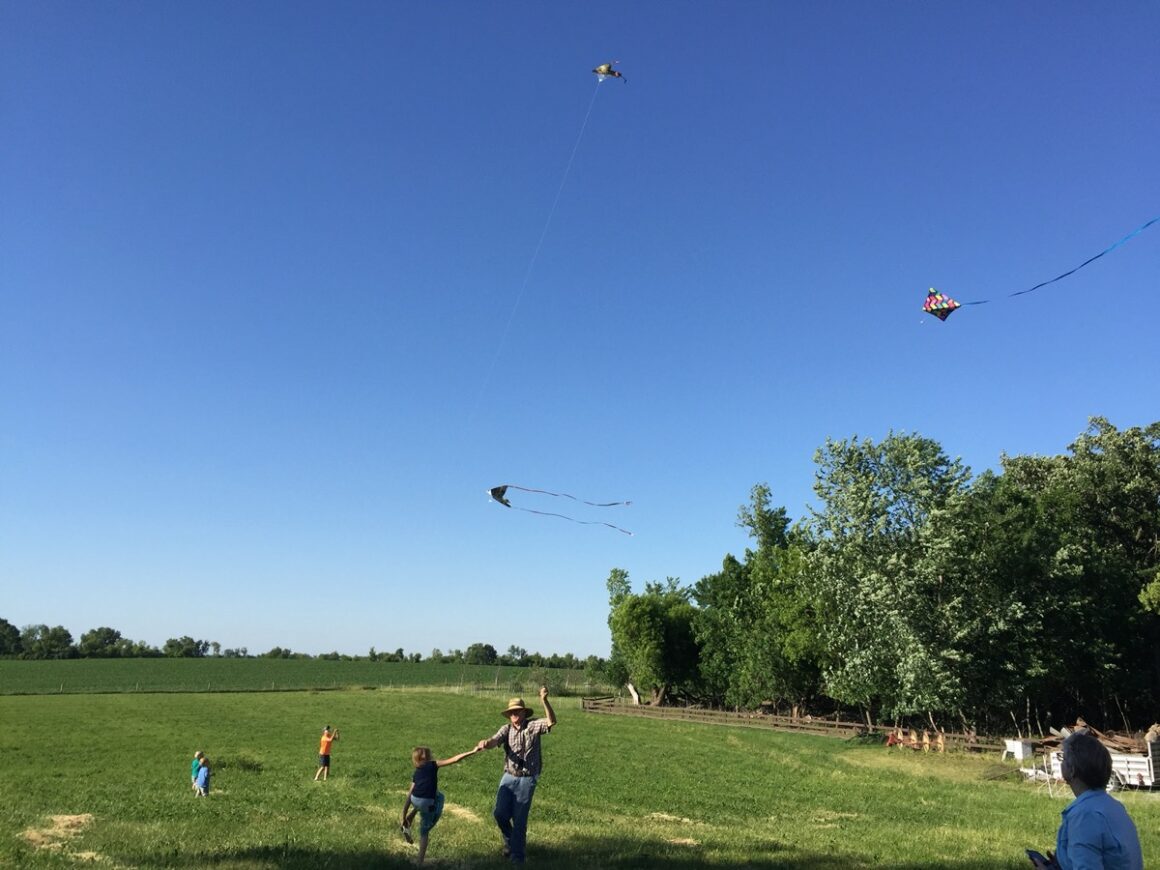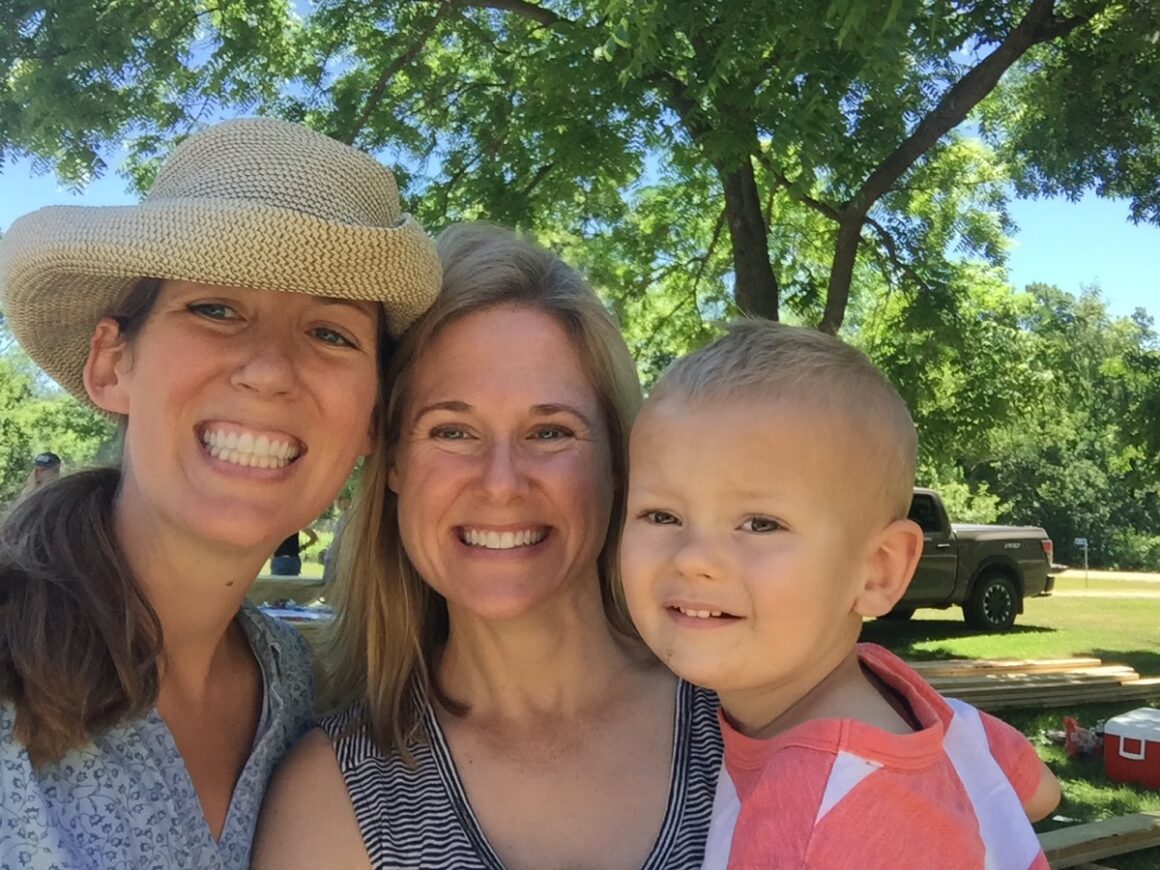 On Saturday, my brother and his girls and my sister's family all came for the day. After we took this picture above I said to my sister, "I love this picture so much because I look as happy as I feel."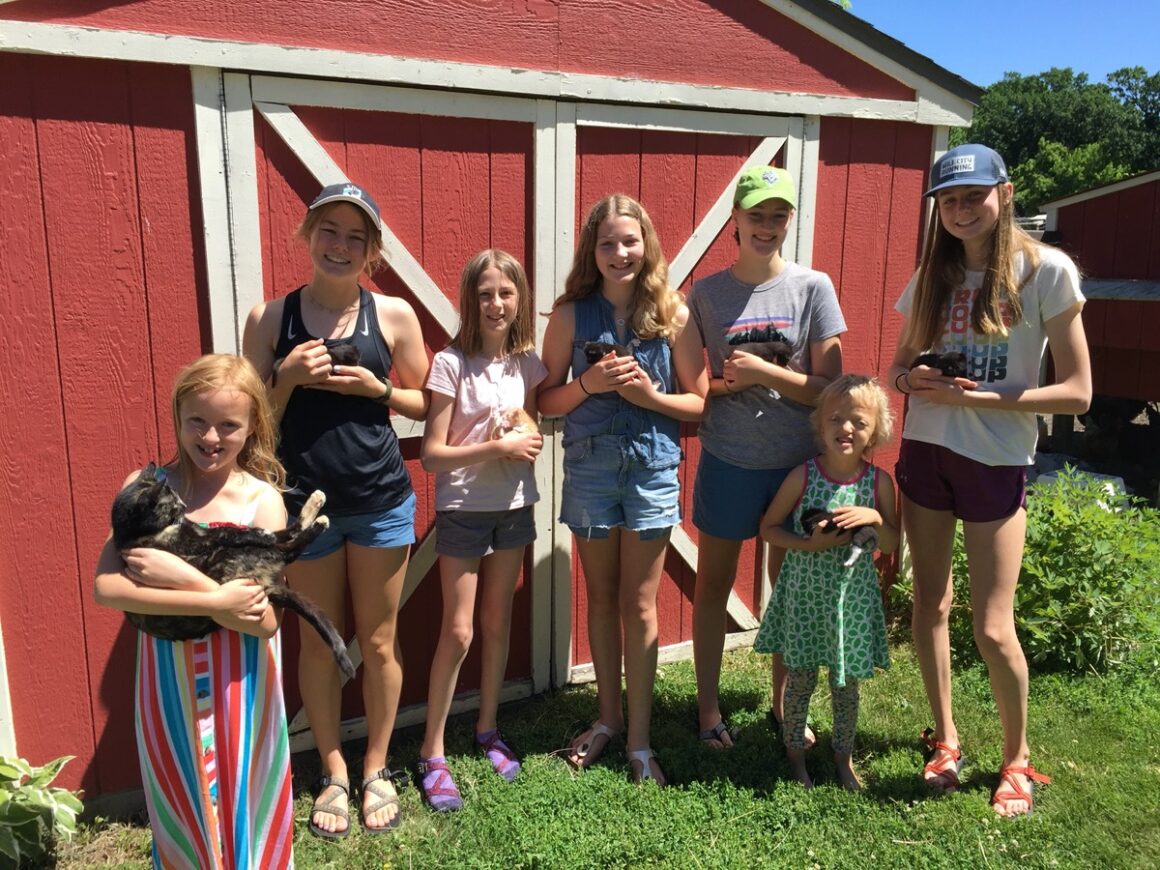 And there was a kitten for every cousin. Which made my nieces all very happy, too.
We enjoyed a big potluck on the last day with salmon that Uncle Wayne brought from Alaska and I kept looking at my kids, so grateful they were experiencing the same family gatherings I grew up experiencing.
The thing about this porch, and this week together, is that I was simply gleaning from the friendship between these six siblings: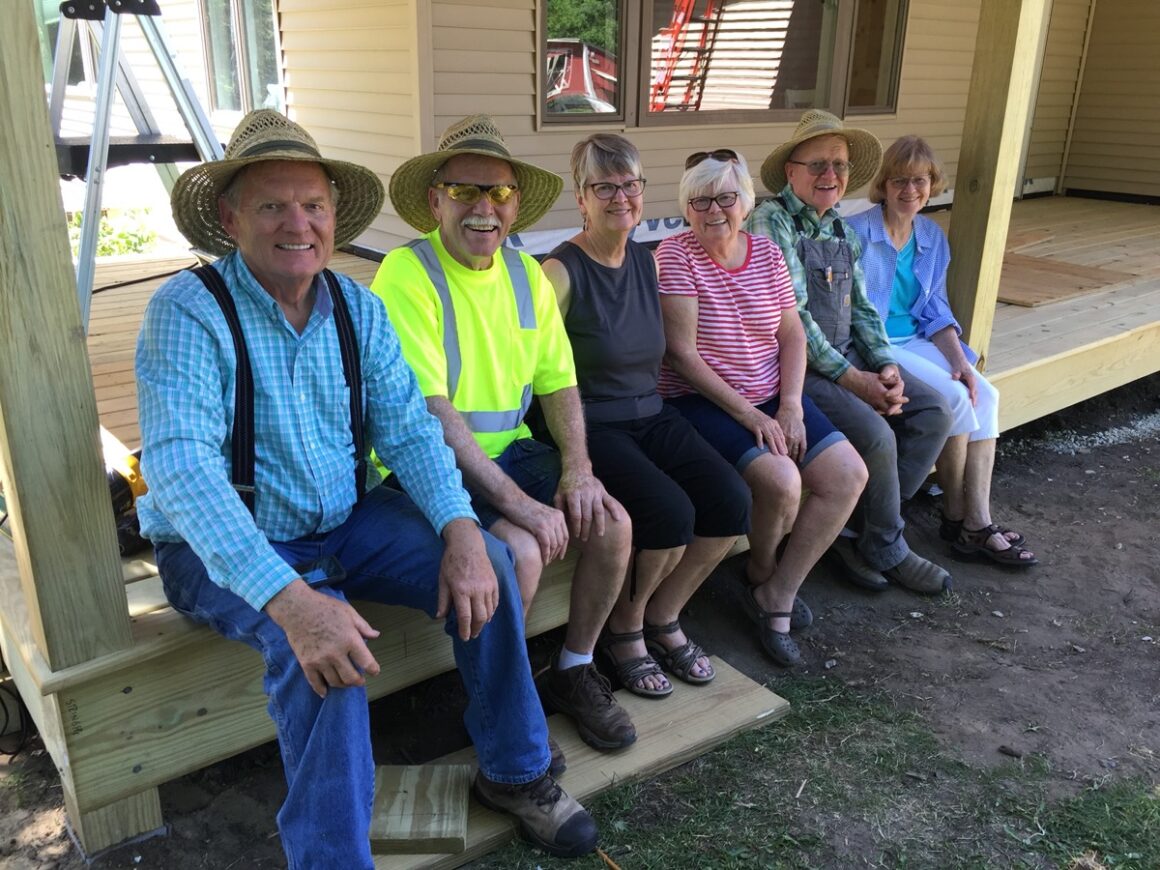 Missing is Aunt Jan, who passed away nine years ago. But these six brothers and sisters are very dear friends. And it is out of that friendship and love for one another that they had the generous idea to "go build Becca her porch."
My heart is overwhelmed with thanksgiving and there really are no sufficient words to say how this feels. But the foundation of this family is firmly rooted in the love of Jesus Christ, and I definitely feel the call to continue this sort of generosity for the rest of my days.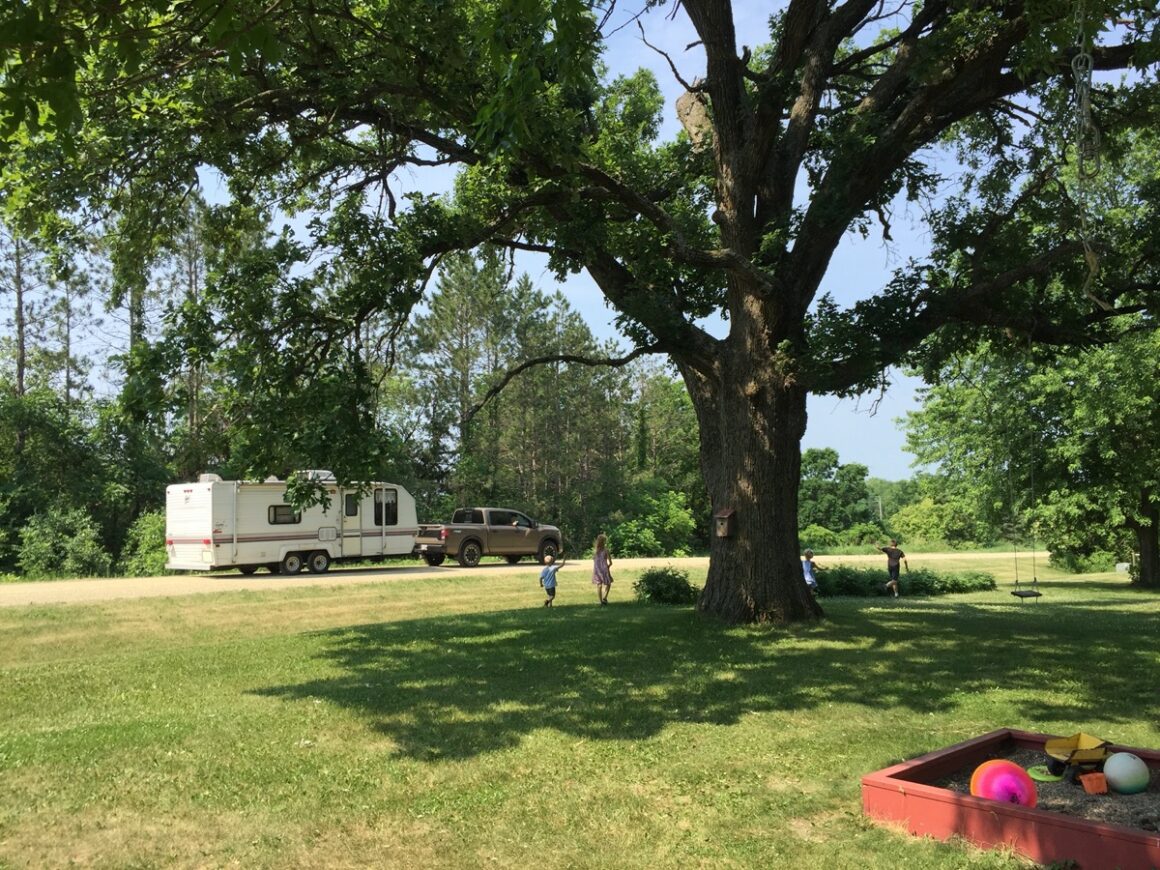 Uncle Paul and Aunt Connie loaded up their camper this morning, and we prayed together and then waved goodbye with heavy hearts, missing them already.
The last page of The Relatives Came says, "And when they were finally home, they crawled into their silent soft beds and dreamed about the next summer."
I believe that is exactly what we will now go and do.