Hello,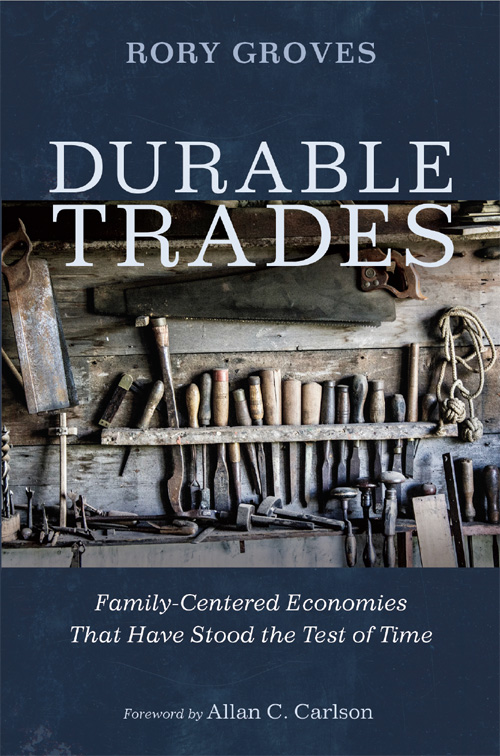 I am looking for 4 to 5 young people (ages 14-18) to help me test drive a new highschool-age curriculum I am developing for my book, Durable Trades.
Each student will receive a free copy of Durable Trades and participate in weekly video sessions with me and the other students to discuss the lessons. You will be a crucial part of shaping this new study guide!
The course is approximately 8 weeks long. I say approximately, because it is still being developed. It may be longer or shorter. At a minimum, I would like students to commit to 8 weeks, starting the first week of February 2022.
Please review the course overview, and if this is something you would be interested in, please apply below.
* There is no cost to join this study group — but we are very limited in how many applicants we can accept.
Thanks,
Rory Groves
Course Overview
Careers are about more than earning potential. They are how most of us will spend the majority of our lives, and the single biggest influence on one's quality of life, and the life of his family. It is important, at the outset at least, to spend ample time thinking through the basic presuppositions of work, college, career and future home and family life.
This course will instruct students on the foundations of what makes for a meaningful career.
Course Objectives
In this course, your student will…
Develop a vision for meaningful work, self-reliance, and independence
Explore alternative career paths to the college-debt-route
Learn practical skills through hands-on exercises
Prepare for modern economic challenges
Understand the Family Economy and its role in creating stable societies
Audience
Ages 14-18 (Grades 9-12)
Sons and Daughters.

This guide is intended as a resource for both sons and daughters. In truth, most trades discussed are suited to

families,

each having roles for both men and women and often younger children and elderly adults.

Family Involvement. As a companion to Durable Trades, this is meant to be independent in the sense that it is a self-contained course. But it doesn't end there. The expectation is that your student will engage his or her family members in discussions about careers, work/home life, and unique giftings and aptitudes. Some activities may include hands-on projects with the whole family, others may involve a mentor at church or from the community.
Faith and Learning. The course does not require adherence to a particular religion, but is written from a distinctly Christian perspective, as is the book. Faith and learning are integrated.
Purpose over Paychecks. This workbook is a career guide, but not in the traditional sense: the central idea is discovering meaningful careers that provide fulfillment, stability, and a multigenerational inheritance (both tangible and spiritual).
Format
Lectures & Labs. The course will include a mix of reading assignments, video lectures, group discussions and hands-on exercises to give the student first-hand experience with practical skills.
Career conversations. A book can only teach so much—real wisdom comes from experience. Conversation starters will help guide the student and parent in important conversations about their future careers.
Learn by Doing. The hands-on exercises contained in this guide are not afterthoughts—the curriculum is literally built around developing practical skills.
Family Involvement. Some exercises may involve family members or the whole family. These experiences will help your student learn how to view work as a collaborative effort, no matter which career they choose. And they will be challenged to think generationally by keeping family as the focus of their career.
Schedule & Time Commitment
Meets weekly for one hour via Zoom for 8 weeks, February and March 2022 (possibly a little longer, depending).
Allow 2-4 hours per week for assignments.
Requirements:
Computer with Internet access for Zoom meetings
Email account to receive weekly assignments
Occasional purchasing of supplies for hands-on exercises, if needed (eg, garden supplies, pine boards for woodworking, groceries for cooking a meal… others TBD).
To Apply:
Applications are now closed. We will be contacting applicants in a few days.
If you would like to be contacted when the study guide is available, please sign up for our email list here: